11 décembre 2008
While drawing Roger's cows I got invited to come see a baby calf 6 hours old, and come back to draw the cows anytime I like.
One of my favorite midnight-stroll destinations: the bat tree.
Mom wanted to know what it looks like around here.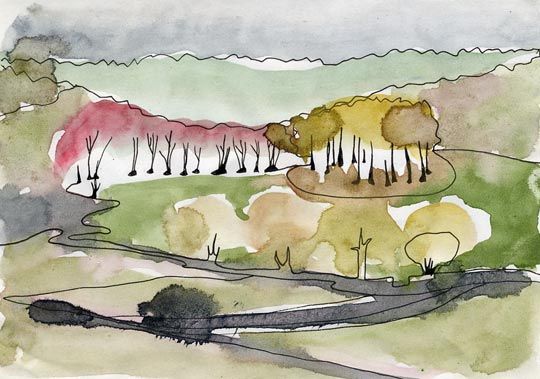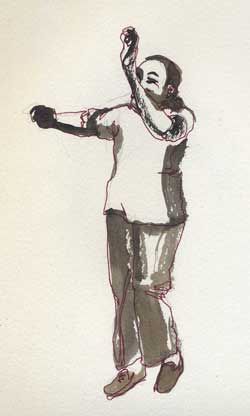 Taking some time to practice India inking, with photos from the Courrier International.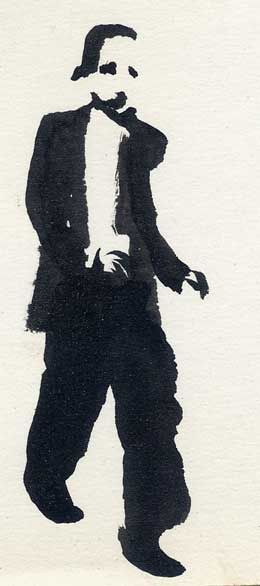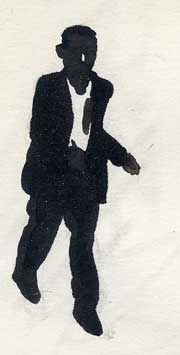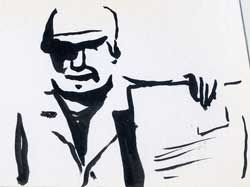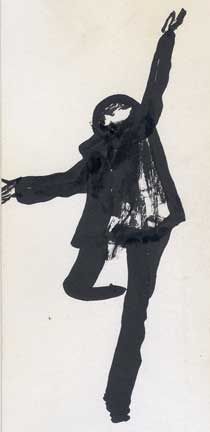 Not a drawing this time, but another of my pastimes: getting interviewed and photographed for news stories about folks who live in the woods.
You can also see us on TV! Check it out:
http://www.demain.fr/se-former/initiatives/details-initiative/annonce-initiative/les-idees-de-genie-dardehia/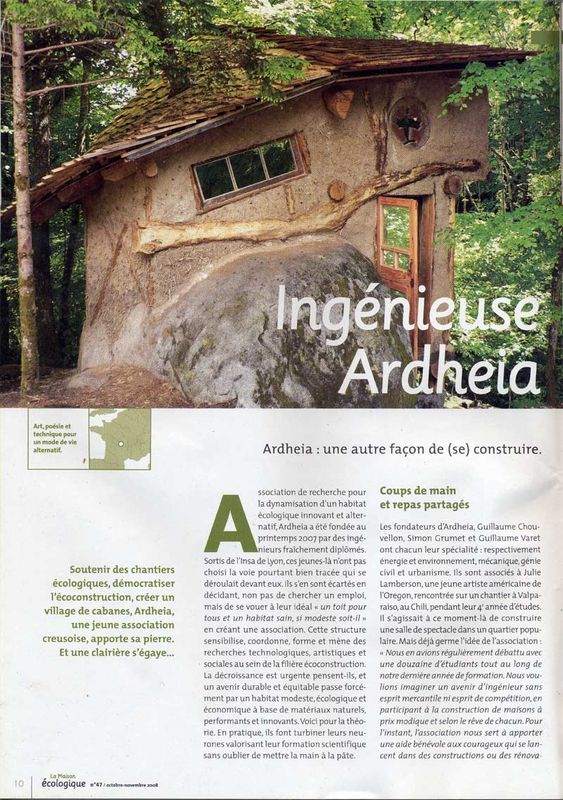 Here's an English translation of the article written about us by Corinne Lacrampe for Oct/Nov issue of the green-housing magazine La Maison Ecologique. She did validate our suspicions of reporters and the media by mixing up a bunch of details and inventing some stuff, but we were proud to see ourselves in print anyway. To clarify her blunders:
We didn't start fomenting the association until after our trip to Chili.
There's no article on our website about masonry stoves (yet.)
A zome has nothing to do with octagons or glass.
Nobody's making Arnaud build his own cabin. He gets to live in ours with us. (This line has been the stuff of many jokes amongst us since the article came out.)
At least she spelled our names right.
Ingenious Ardheia
Support ecological building projects, democratize construction, create a cabin village... Ardheia, a young association in Creuse, is doing its part. And a clearing brightens up...
Ardheia: a different way to construct (oneself.)
Association for the Research and Actualization of an Ecological, Innovative and Alternative Habitat, ARDHEIA was founded in the spring of 2007 by a group of recently graduated engineers. Fresh out of the Lyonnaise university INSA, these young people didn't opt for the well-traveled path laid out before them. They searched a little farther on, deciding not to look for work but instead to work towards their ideal: « A roof for everyone and a healthy habitat, modest as it may be. » They created an association, which by way of its stated purpose, ecoconstruction, allows for a range of activities promoting and coordinating technological, artistic and social experimentation. Slowing down the trend of willy-nilly human progress is urgent, they feel, and a sustainable future must necessarily mean modest-sized, affordable, green housing made of natural but effective materials. So there's the theory; in practice, they churn their neurons making use of their scientific education without forgetting to get their hands dirty.
Helping out and shared meals
The founders of Ardheia, Guillaume Chouvellon, Simon Grumet, and Guillaume Varet, each have their specialty: respectively, energy and the environment, mechanics, and civil engineering. Also in the association: Julie Lamberson, a young American artist from Oregon, whom they met in Chile during their fourth year of study. At that time, their project was to build a multi-use theater in a lower-class neighborhood. But the idea of forming an association was already beginning to sprout: « We had already been discussing the idea with a group of a dozen students regularly throughout our last year of school. We wanted to imagine a future as an engineer, but without the big-business or the competitive aspects. We wanted to participate in building smaller, cheaper homes, while taking personal dreams into account. For now, the association allows us to lend a hand as volunteers to brave folks who take on green building or remodeling projects. We just asked to be housed and fed in exchange. We started by taking a trip around France, working on volunteer worksites, for four months just to get a feel for some different building techniques: rammed earth, cob, strawbale construction, wood, natural plasters, hemp cement... » And if ever the project gets too big, Ardheia calls upon neighbors, friends, and family. A must: adhering to the association in order to be covered by their insurance.
A small home is better...
« We like to support projects that are a little crazy, alternative lifestyles, performers and artists, artisans, welcoming them all here, » explains Guillaume. Ardheia itself is somewhat experimental, having been formed, like each of its members, by a series of fortunate encounters. Finding a home base has been part of Ardheia's adventure too: « It had to be a place to fall in love with, because inventing a home can't be done just with reason. It's more than a roof, » explains Julie. In October 2007, the association settles down, far from Luberon and the world of real estate... in the far reaches of Creuse where our heroes are charmed by a mossy clearing, fresh-smelling and humming with life. Their first shelter, the Toad Cabin, is built next to the pond, around a tree growing in the cleft of an enormous granite foundation. This elf-and-fairy house, so prettily misshapen, incorporates whole logs for the post-and beam structure. In between is filled with cob made of local straw, sand and clay. Then came a solar shower, composting toilets, a whale-shaped garden... and other cabins: « At the edge of this village of small (less than 20 m2) individual cabins, we've talked about building a larger, multi-purpose, shared structure."
The power of proposal
Ardheia is also developing a side project in energy consulting. So, when in a nearby town a regional organization proposed a housing project for the mentally handicapped, Ardheia participated in the discussion: « We proposed a passive-energy architectural plan which was accepted. We put professionals and the organization's members in contact with each other. Construction projects like this one are still rare in Creuse, and we're hoping it will stick out like a sore thumb. » Sticking out and getting noticed is the whole point. To share information, trade, discover new projects under construction, build new cabins... on their website, Ardheia's pioneers also tell about their own worksite, with the help of photos and Julie's watercolors. With them alongside, we can dare to build round cabins, tipis and yurts. Ardheia has even put online a (downloadable) program for calculating your own zome, an octagonal construction with a glass roof made of many squares assembled together. Another tip: rerouting a masonry stove to heat the floor.
While Arnaud, the newest member, gets started on building his own cabin, the village in Ardheia's woods will soon be welcoming ecoconstruction interns, individuals and groups interested in green building or even artistic workshops. For Art also makes up part of Ardheia's program; a glance at their website is proof enough of that. Scientific rigor doesn't exclude poetry...
Technical manuals for the downloading
Rich in ecoconstruction techniques that they're learning over the course of their various projects to put into use, these young engineers are gradually building up a stock of precise, detailed and attractive technical manuals. Eager to share and to circulate this information, they authorize free downloading from their website: cordwood, post-and-beam framing, beginning masonry, etc. The site also explains the process of building a solar shower, composting toilets, or building a cabin in the woods (legislation and technique.)
Photo captions:
Art, poetry and technique for an alternative lifestyle
Helping out on ecoconstruction worksites and welcoming interns are part of Ardheia's mission.
Build your own solar shower? Ardheia's put the technical instructions online!
Ardheia
email: ardheia@gmail.com
Phone: (033) 6 03 38 02 95
http://ardheia.free.fr