25 janvier 2019
This stretch of the Hurbert & 2nd St. murals in Newport, Oregon is a forest scene with a multitude of local birds perched on (or playing with) a blue string. The forest is colorful to the west and the birds are black and white; moving along the painting to the east the birds are more and more colorful and the forest slips into gray tones, eventually fading out to white and then a blackboard legend, where passers-by can read the names of the birds and try to match them to their images.
Ce pan de mur, le long de SW 2nd St. à Newport dans l'Orégon aux USA, montre une forêt avec de nombreux oiseaux locals perchés sur un fil bleu, dans un forêt coloré. Tout à l'est il y a un tableau noir où l'on peut lire les noms des oiseaux afin de les identifier.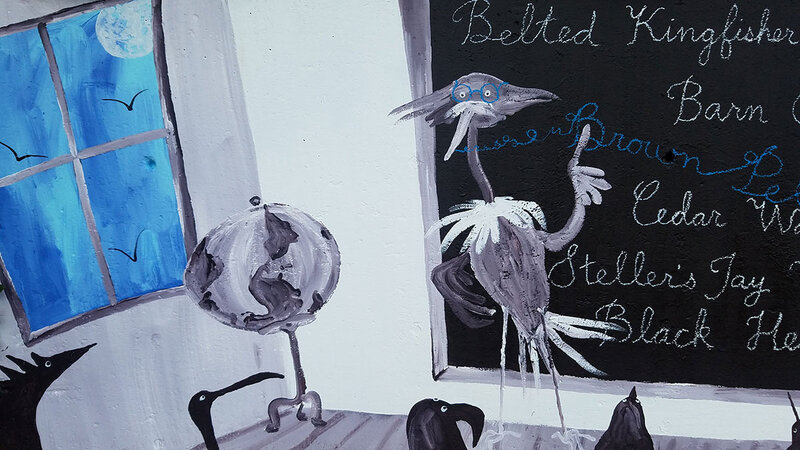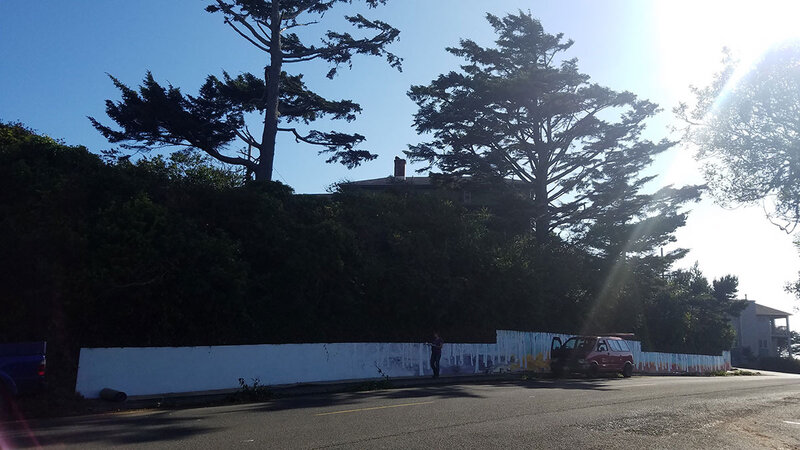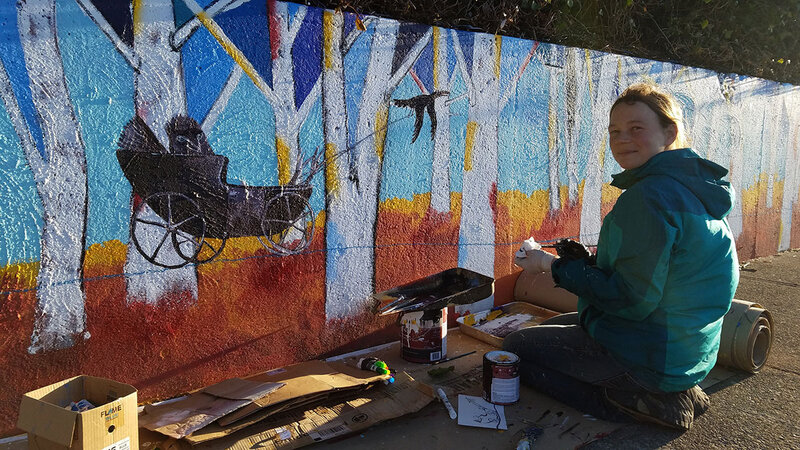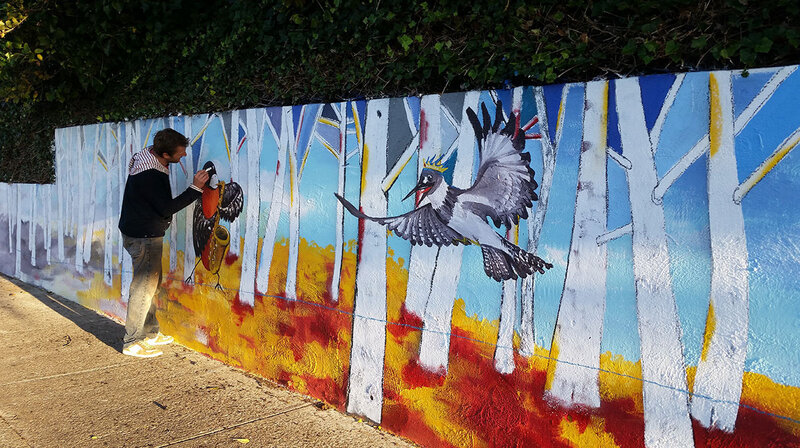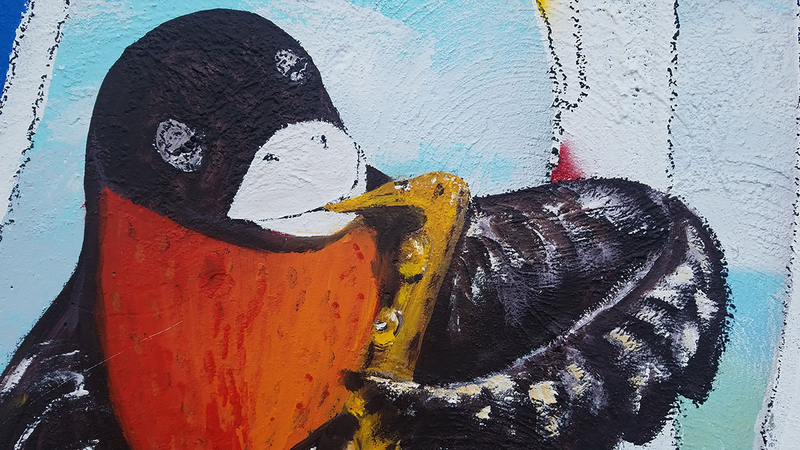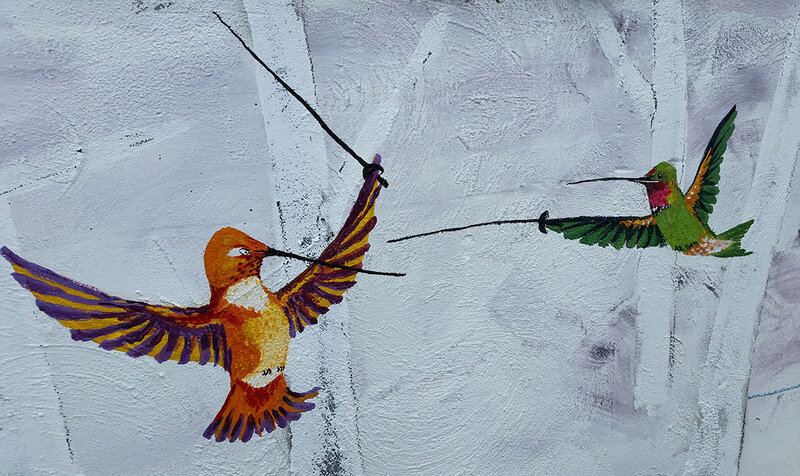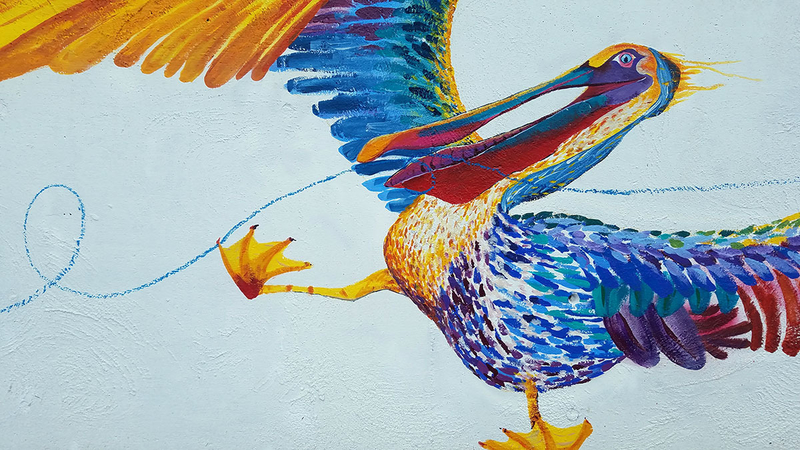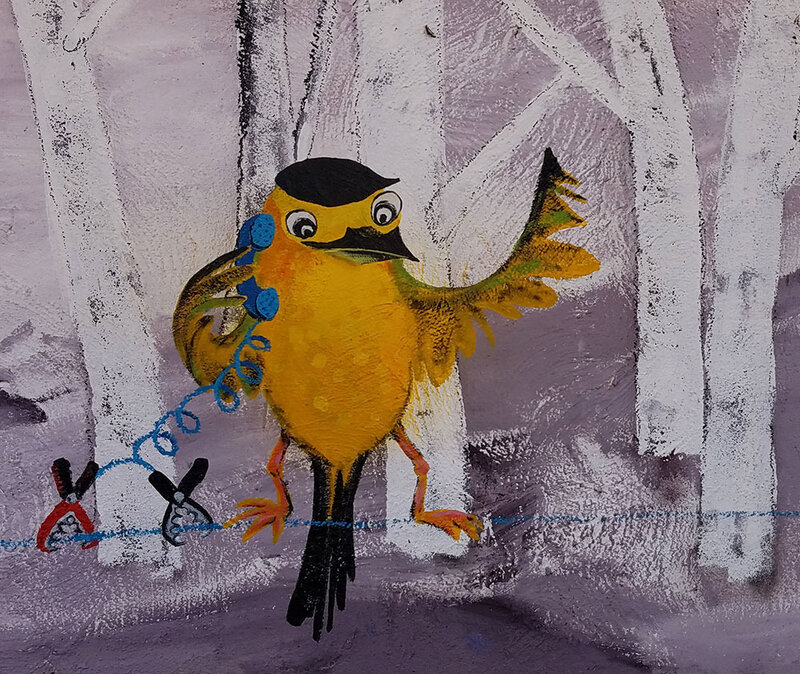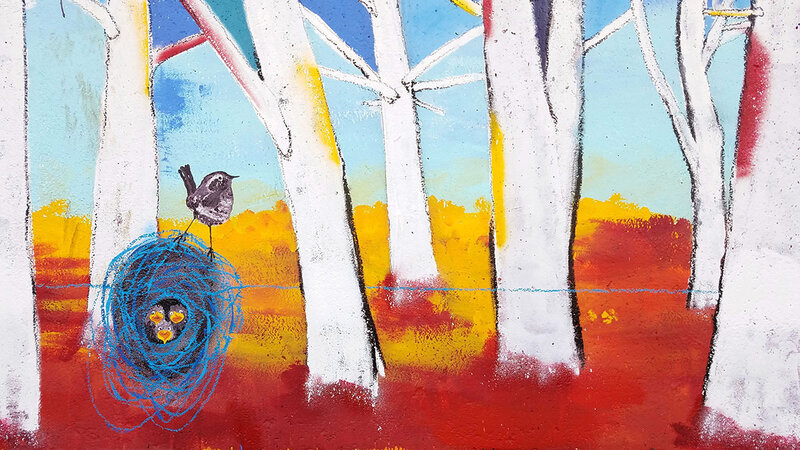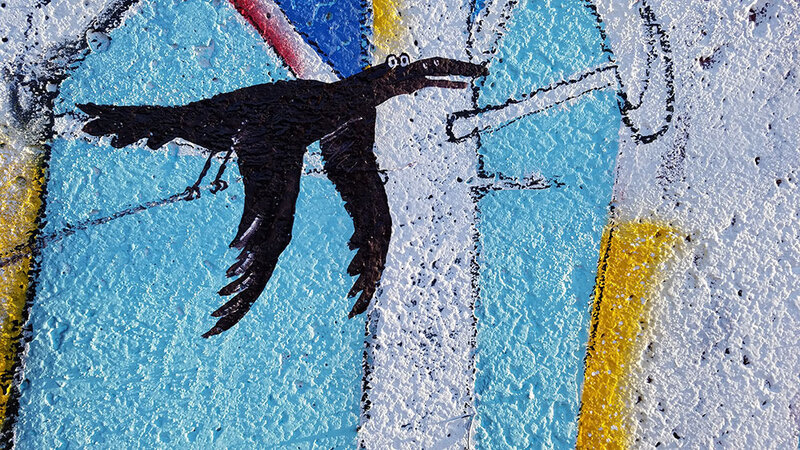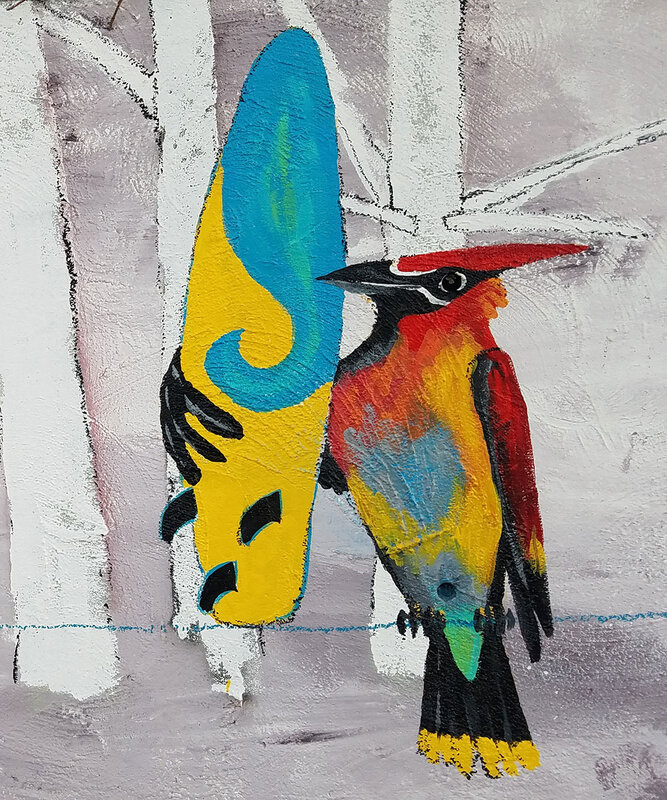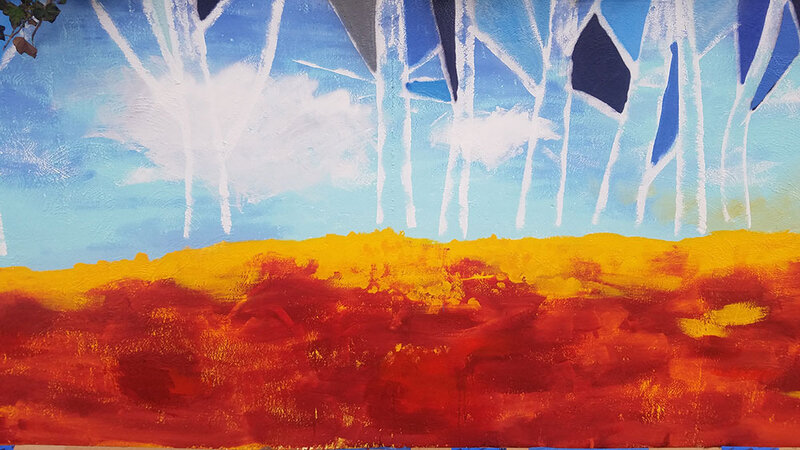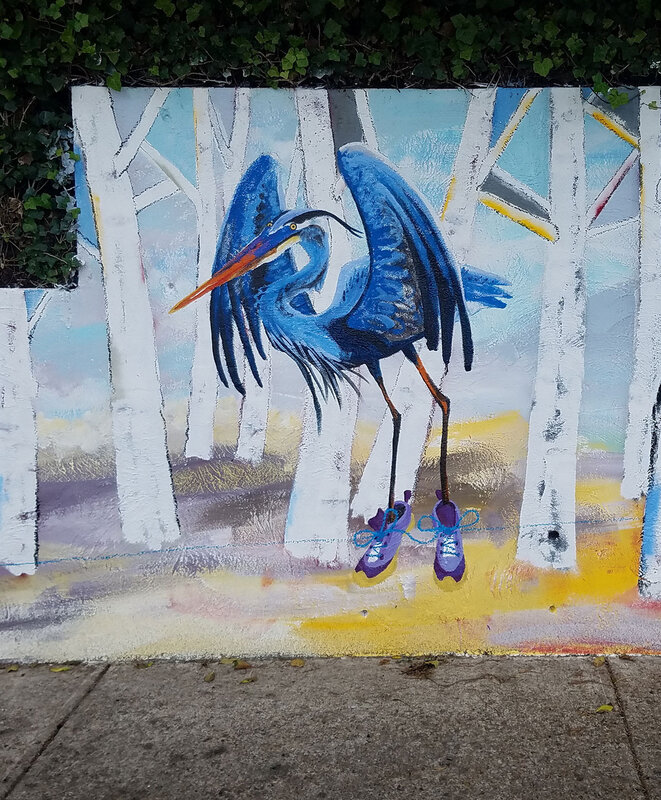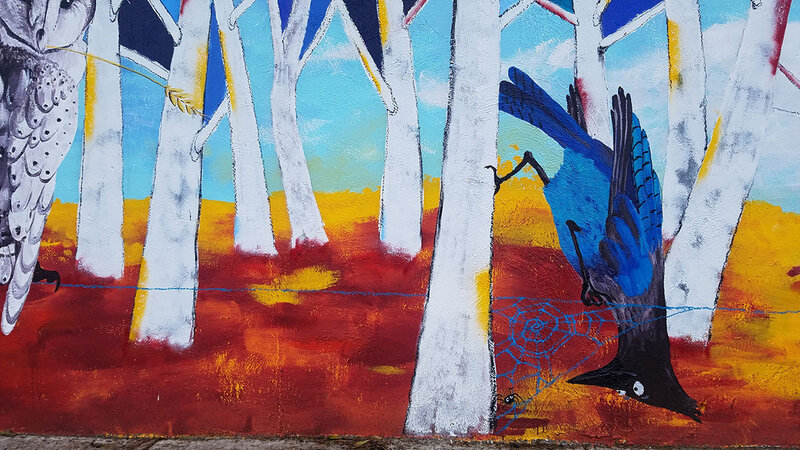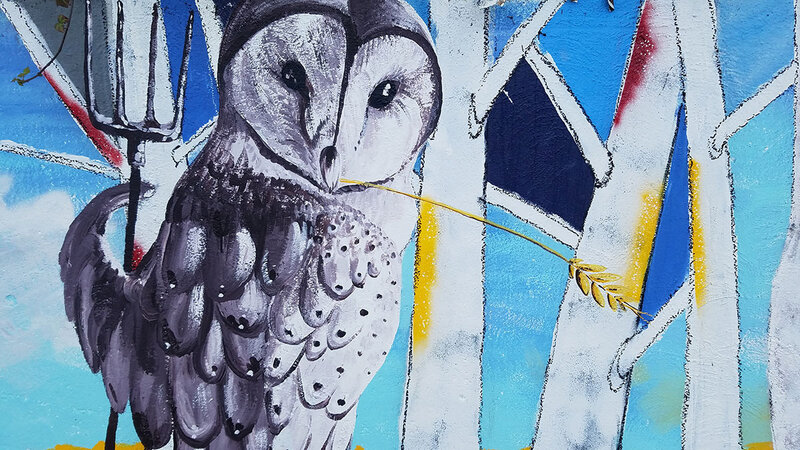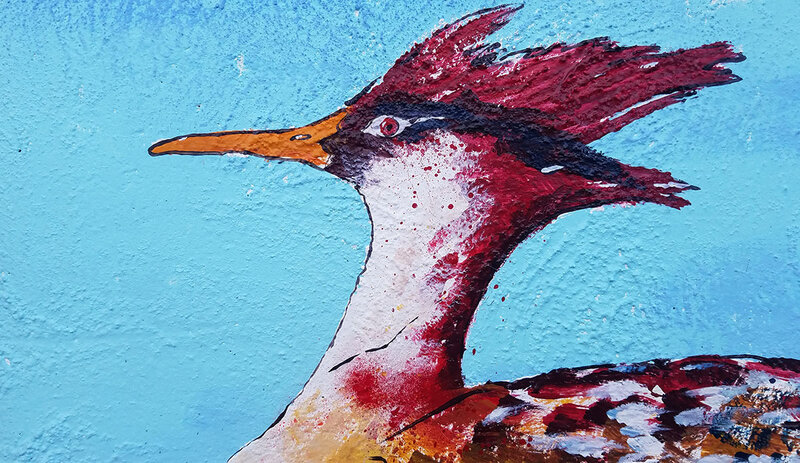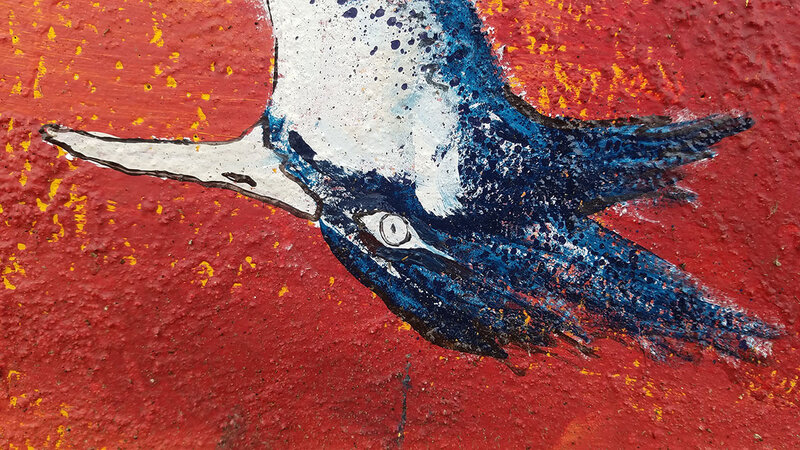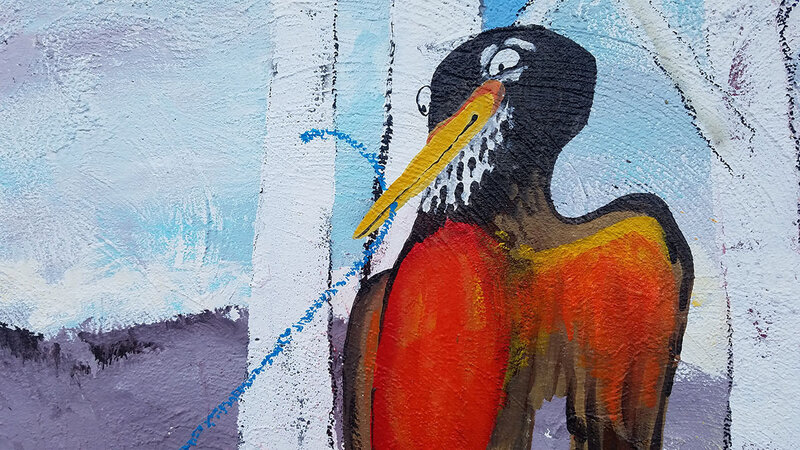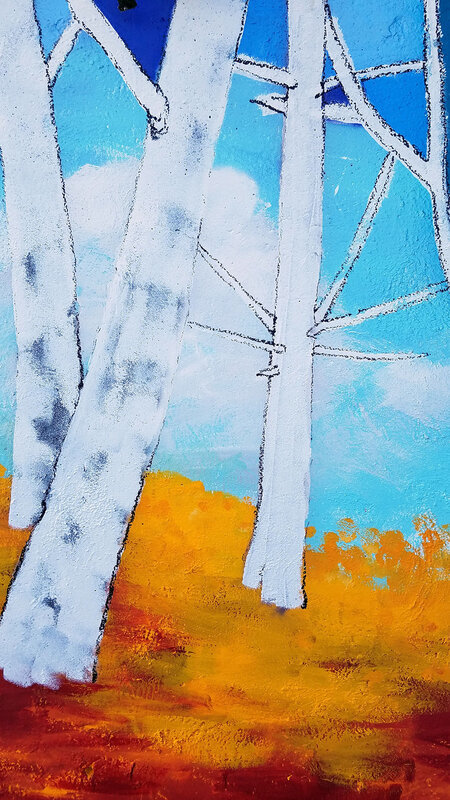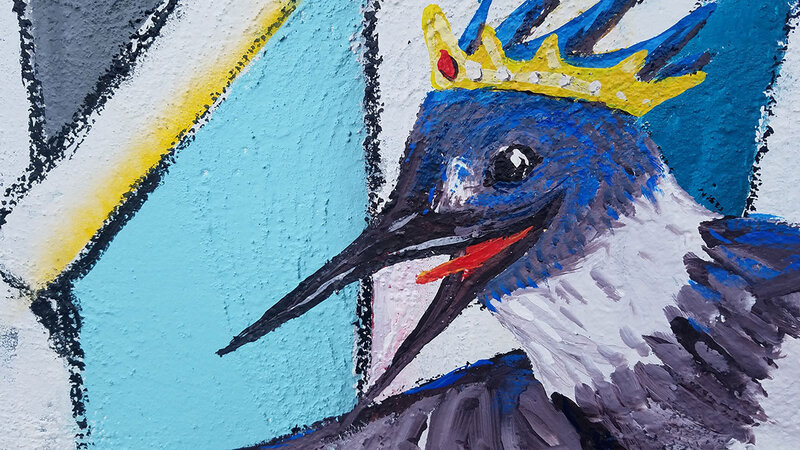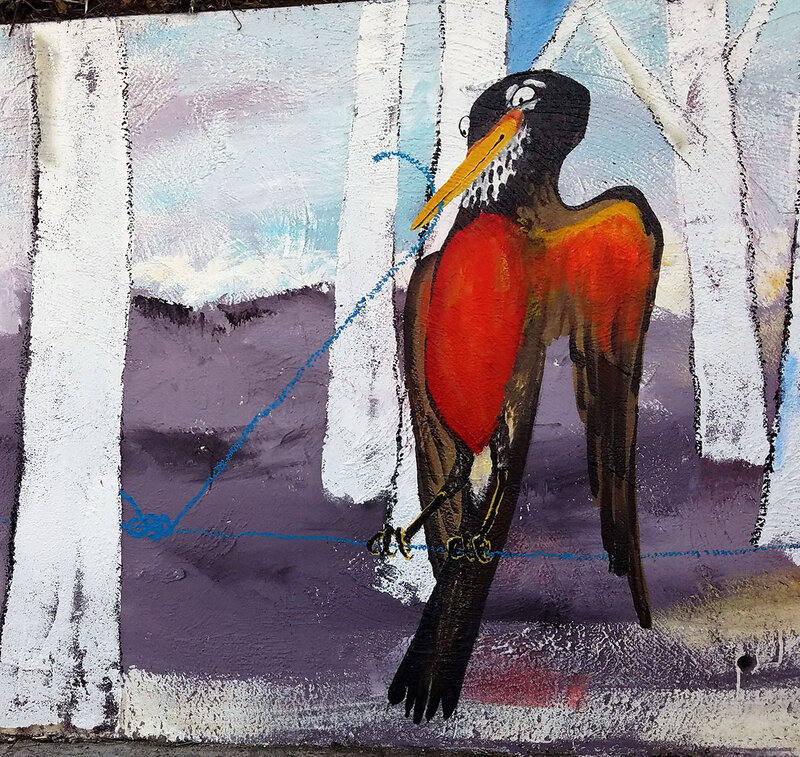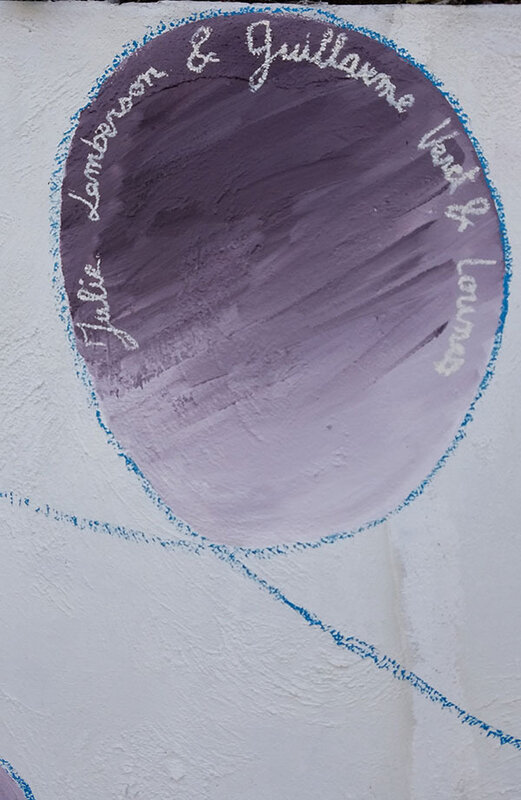 Banner art night with Jeff and Emy!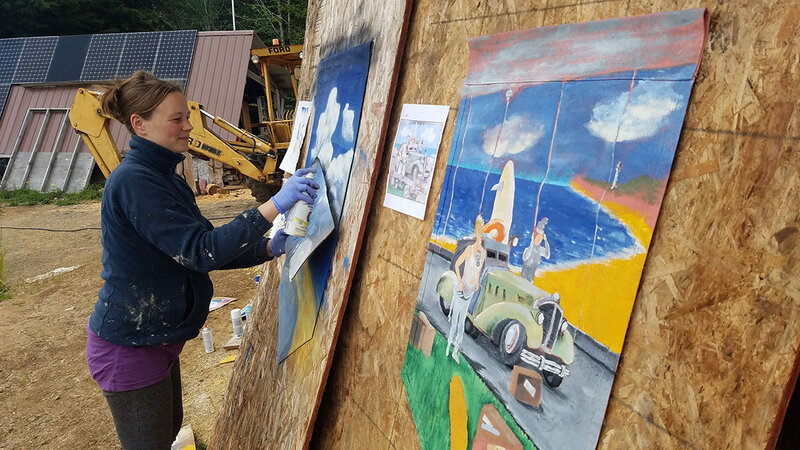 plein air bannerpainting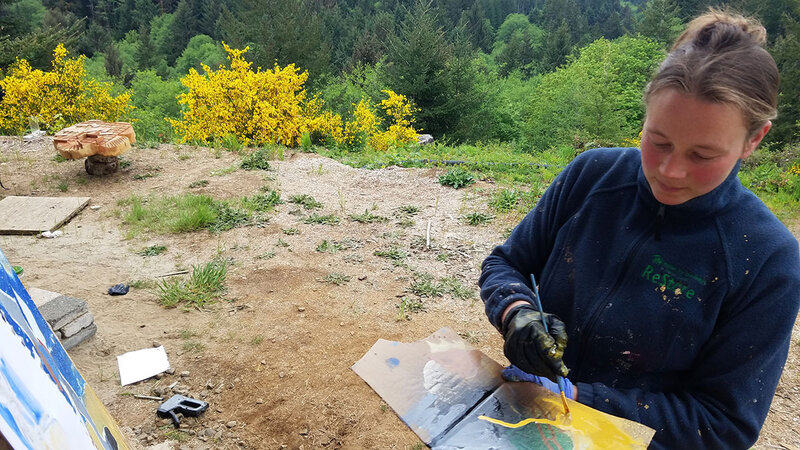 Nye Beach old-timers will gladly tell you if you lend them an ear and especially, if you buy them a kombucha: 100 years ago, you could hop the train over from Albany to spend the summer at the playground of Nye Beach. Here you could swim in hot or cold seawater at the sanitarium, land your aeroplane on the beach, trot on horseback along the boardwalk from the Bayfront, jump off of Jump Off Joe, or take a seagull ride. This is a historic advertisement from 1918.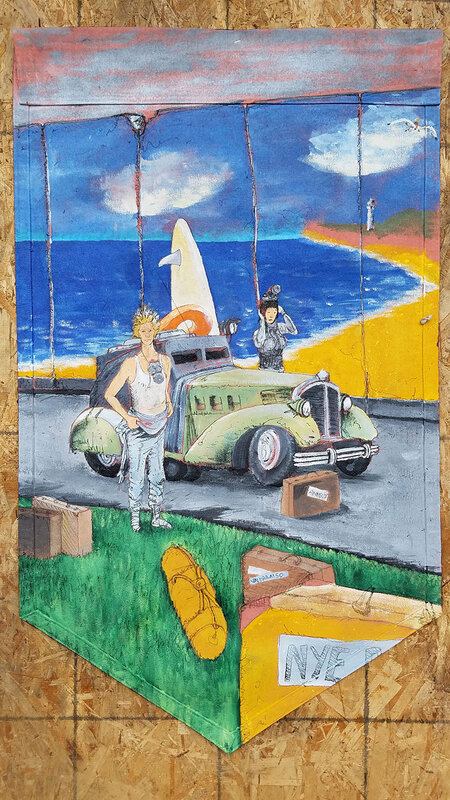 200 years later, the Nye Beach sky is blood red, imprisoned by terrible grey clouds. Here we encounter the great-great-grandchilden of our valiant explorers of the air who long ago used to straddle seagulls as they flew. The ancestors' vehicle has been adapted: concrete protects the cockpit from radiation, supported by four supplemental wheels. Wetsuits have been replaced by integral jumpsuits more adapted to the toxicity of the air. They are posing in front of a painting of Nye Beach, replica of the 1920s.
On the back, an advertisement proposes vacations at Nye Beach for 5 bitcoins. A child poses in the company of an alien come to visit the area.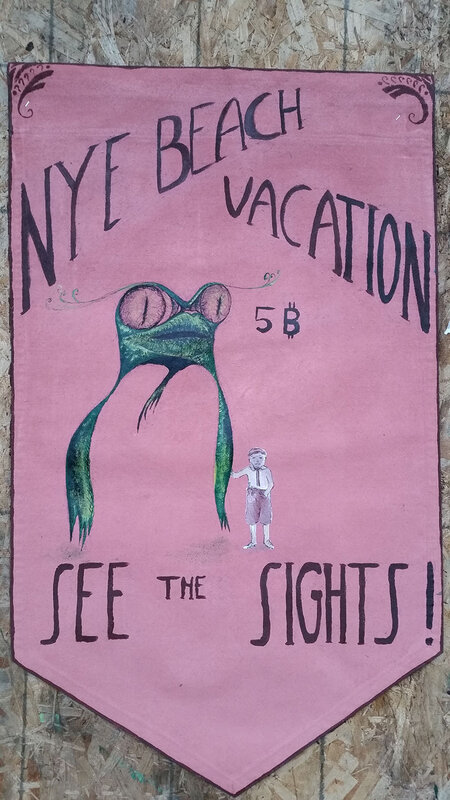 23 janvier 2019
Newport, Oregon.
Painting a mural is long-term performance art. Passers-by in cars honked, shouted "thanks!" or stopped in the middle of the road to look. Among the people on foot or bicycles, we had our regulars who came by every day to see if anything had changed. When everyone is involved, it's not just our mural, it really belongs to its neighborhood.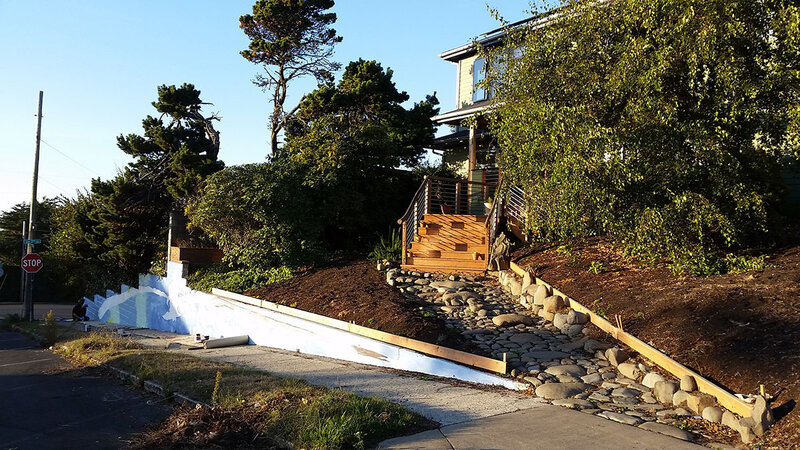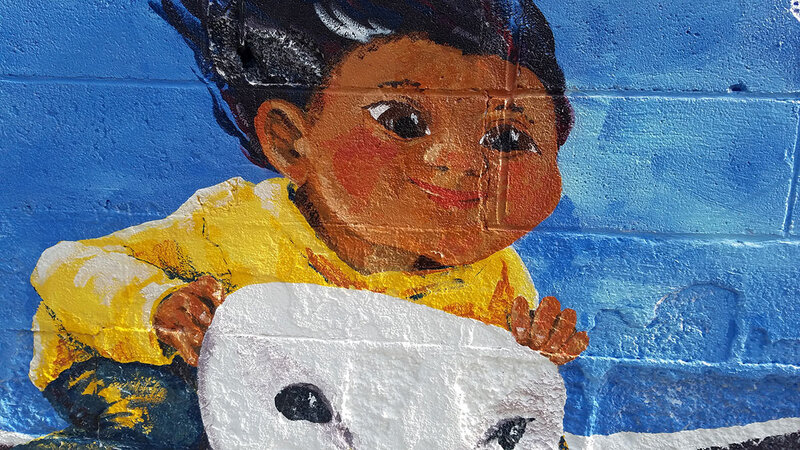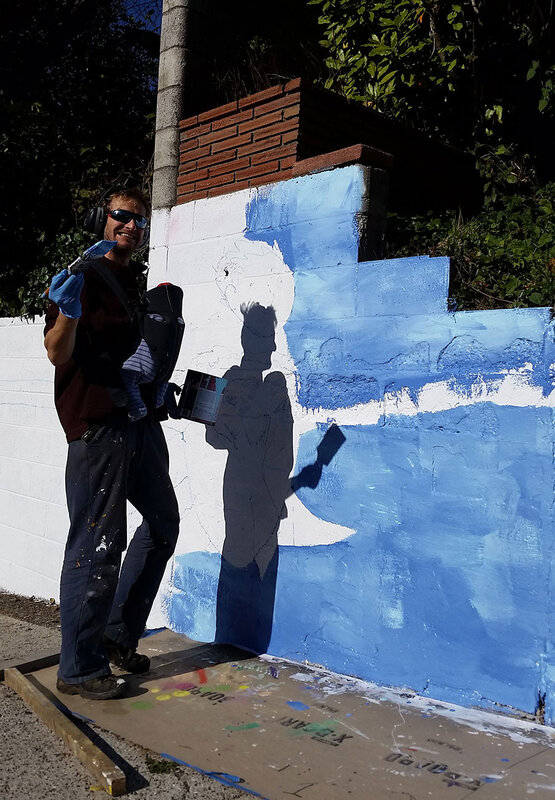 Click on the images to see more!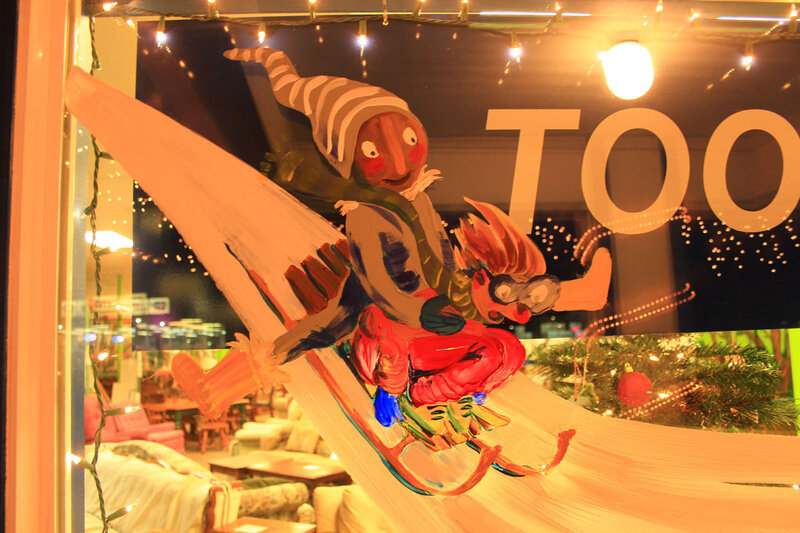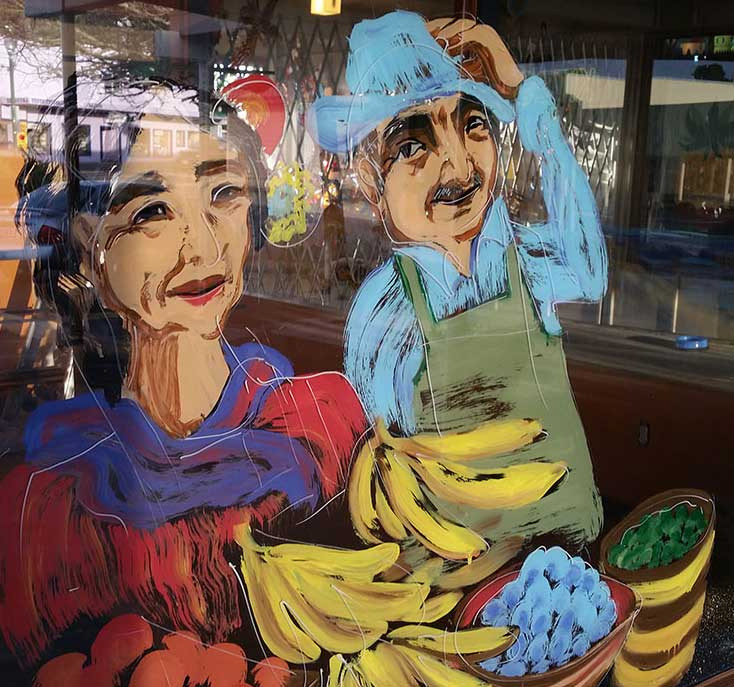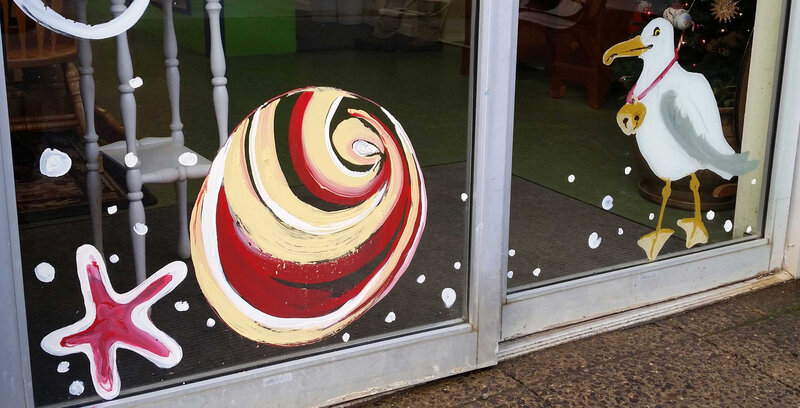 Holiday windows at the Newport Habitat for Humanity ReStore.
Window painting is a good way to practice making BIG public art for a very low materials cost, and something about it being ephemeral makes you a little more free...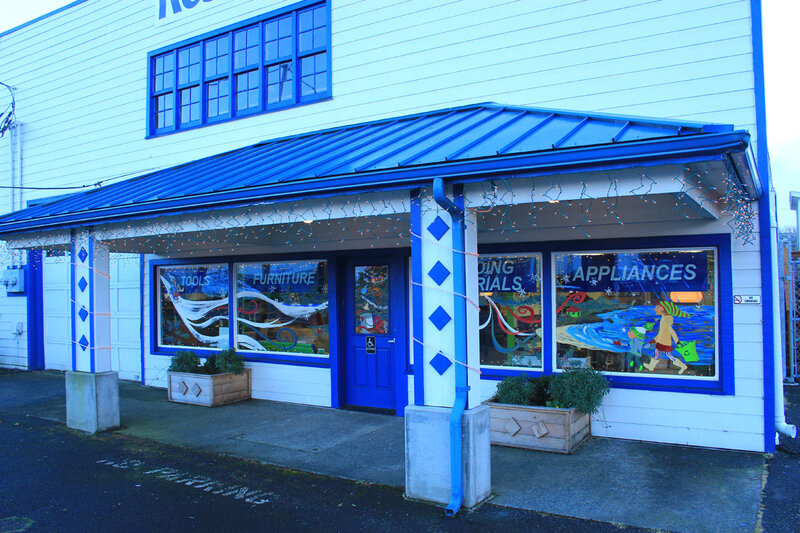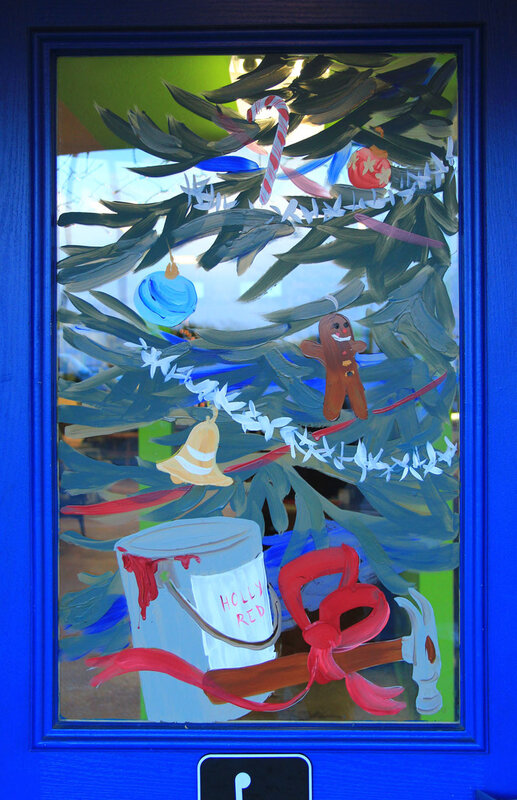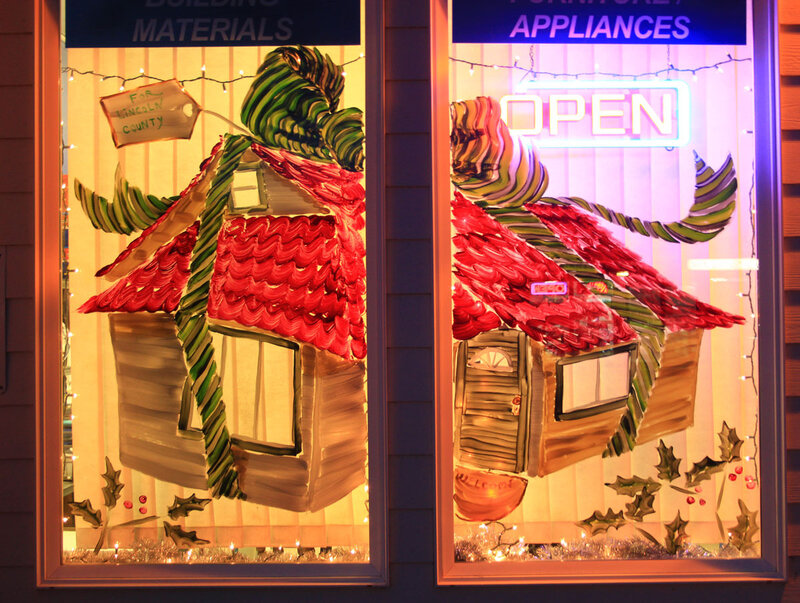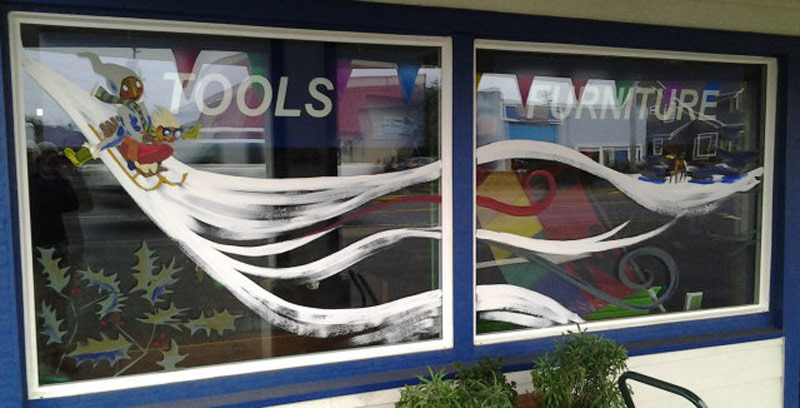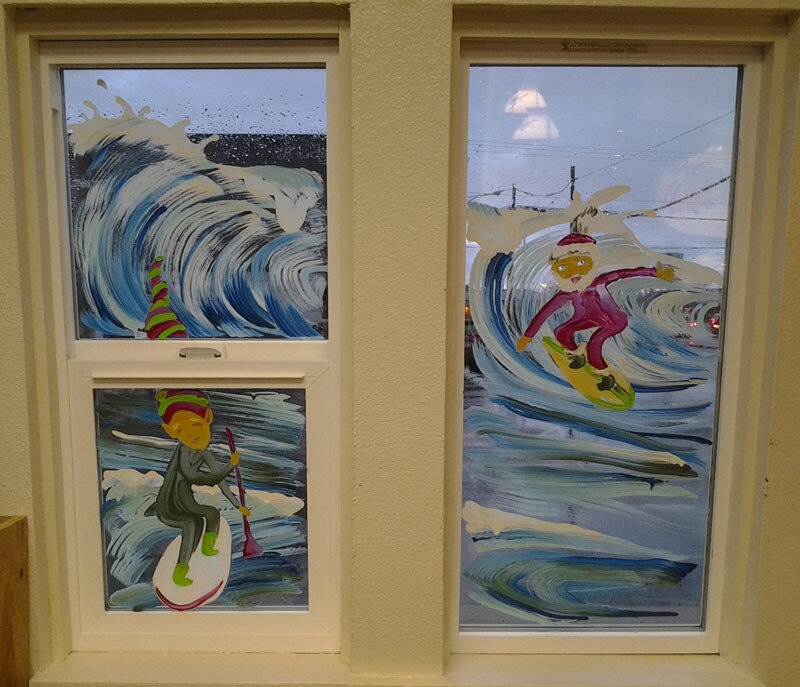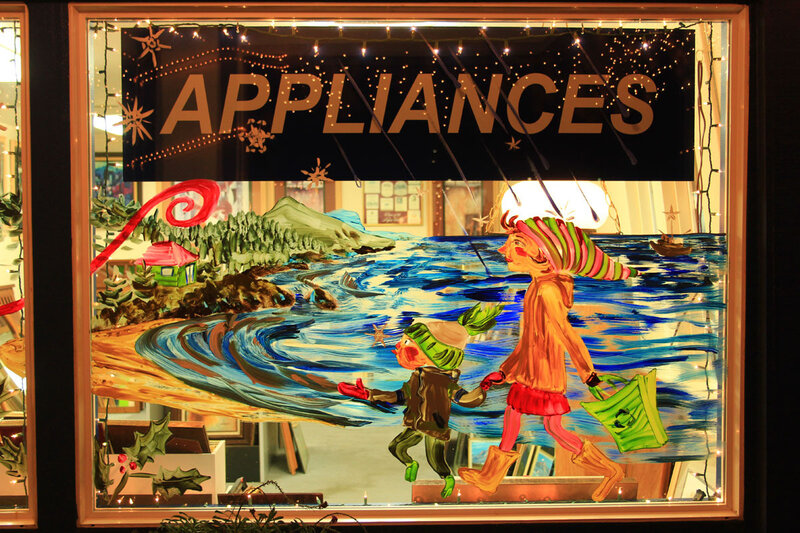 22 janvier 2019
Window painting for Enrique's Mexican Restaurant, Lincoln City, Oregon.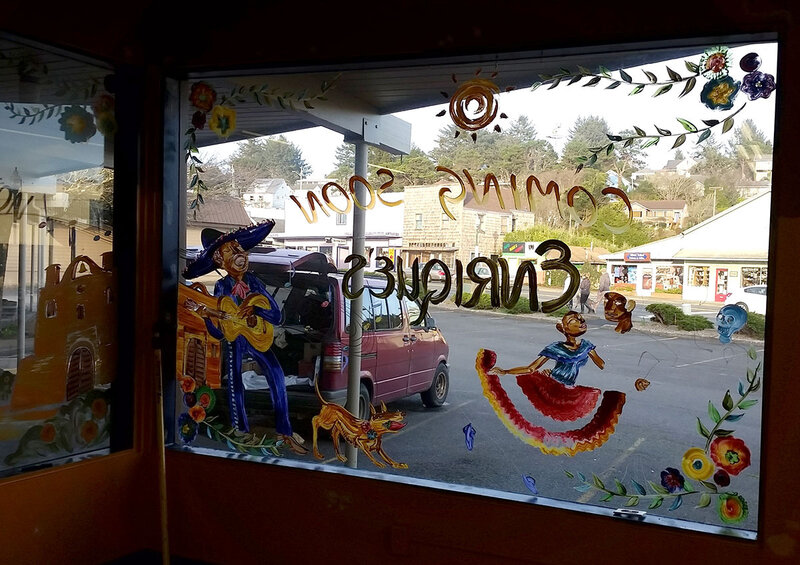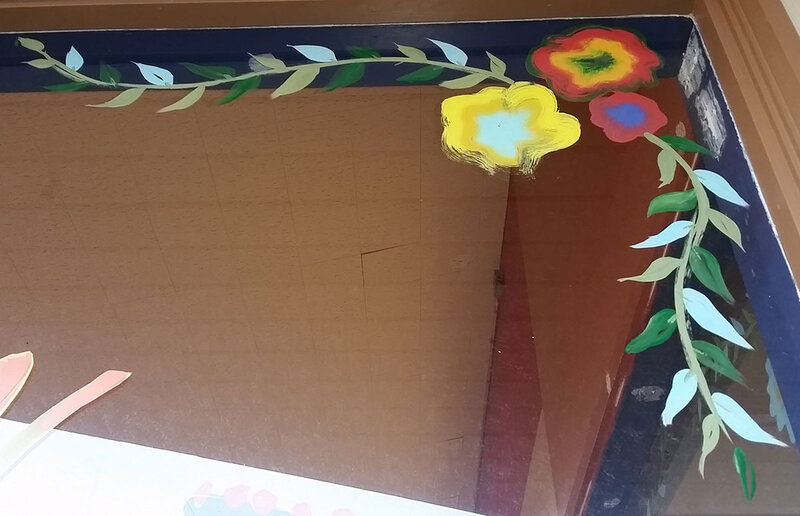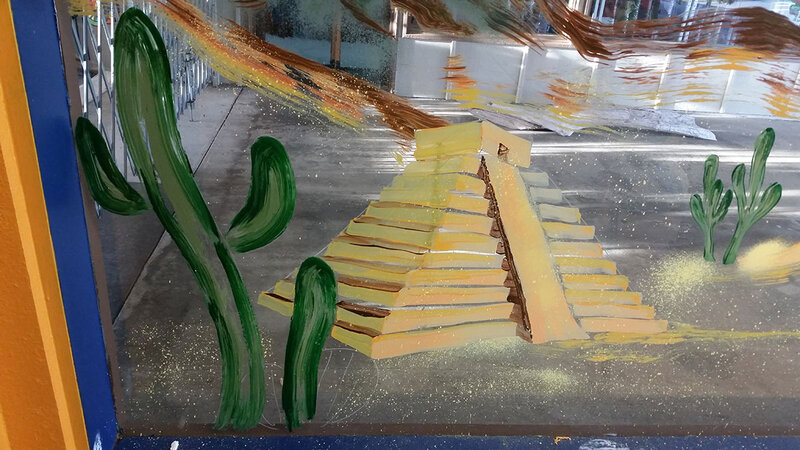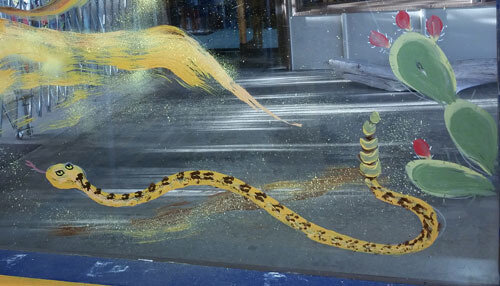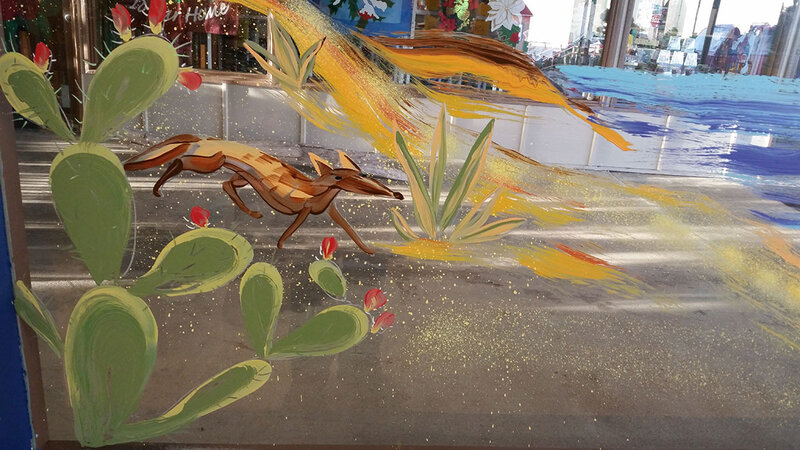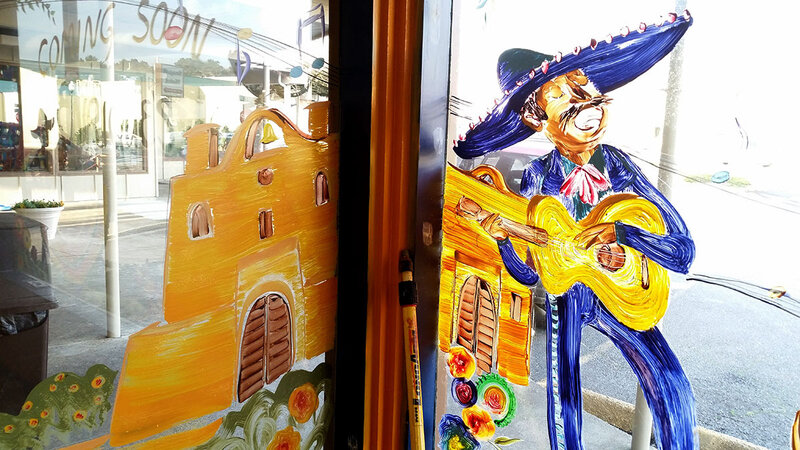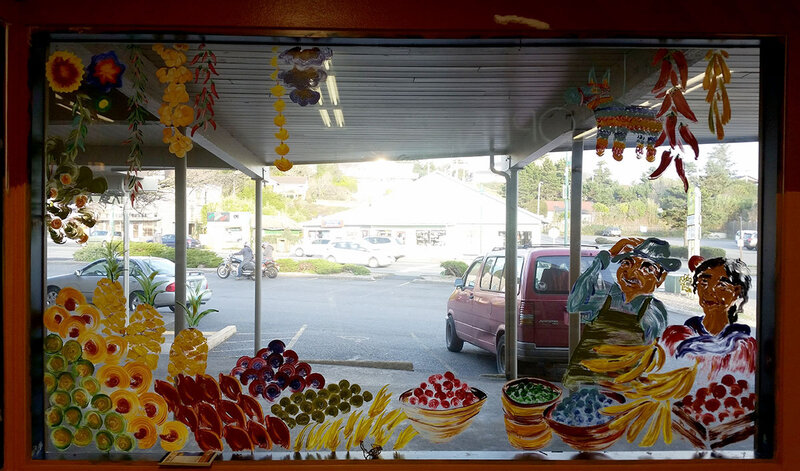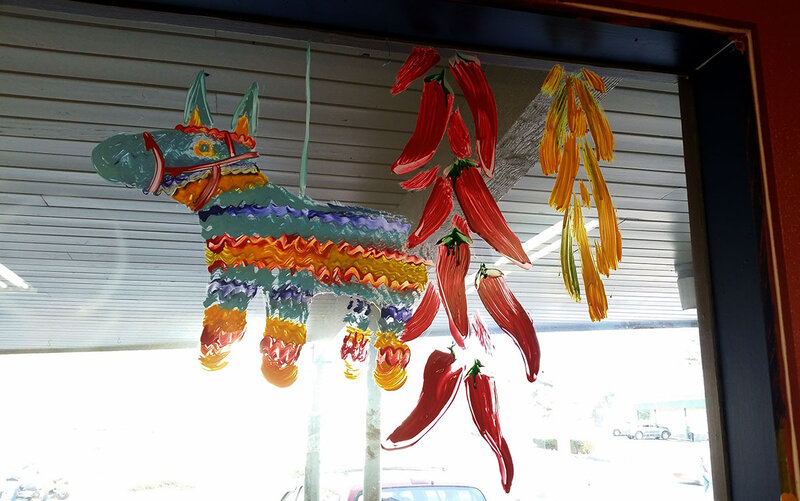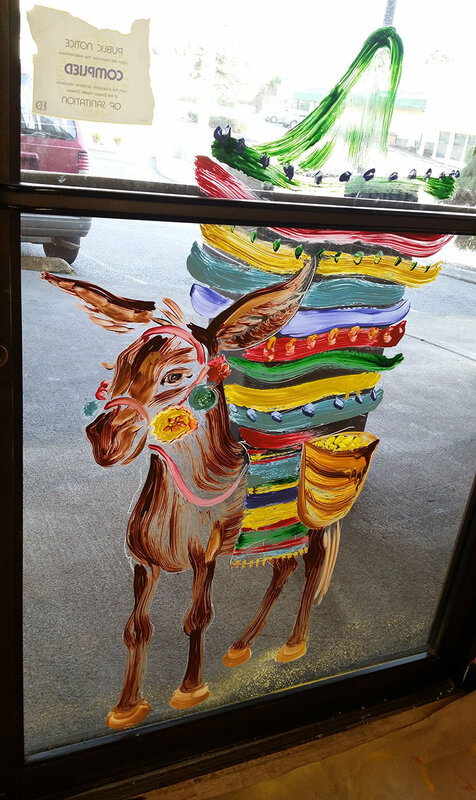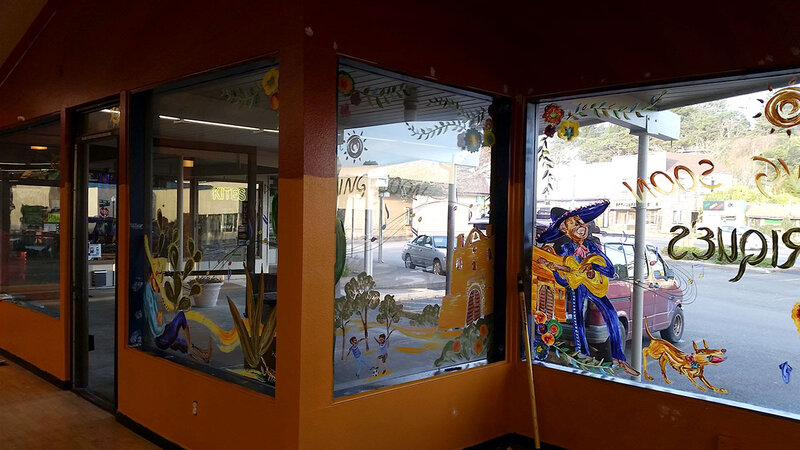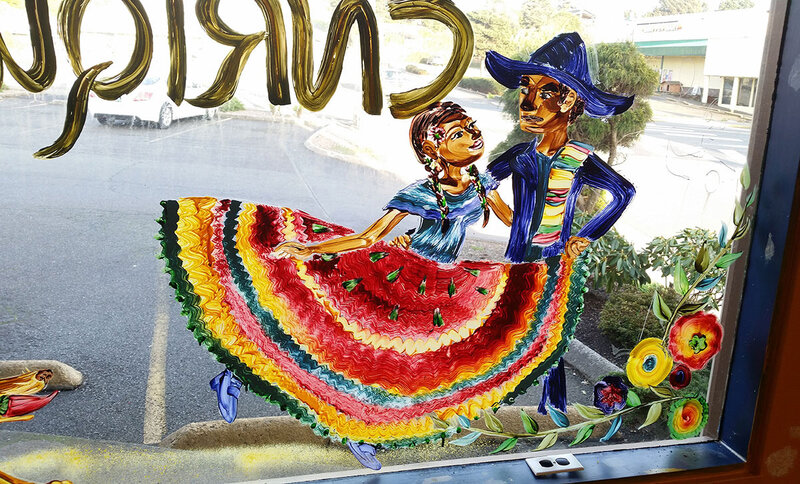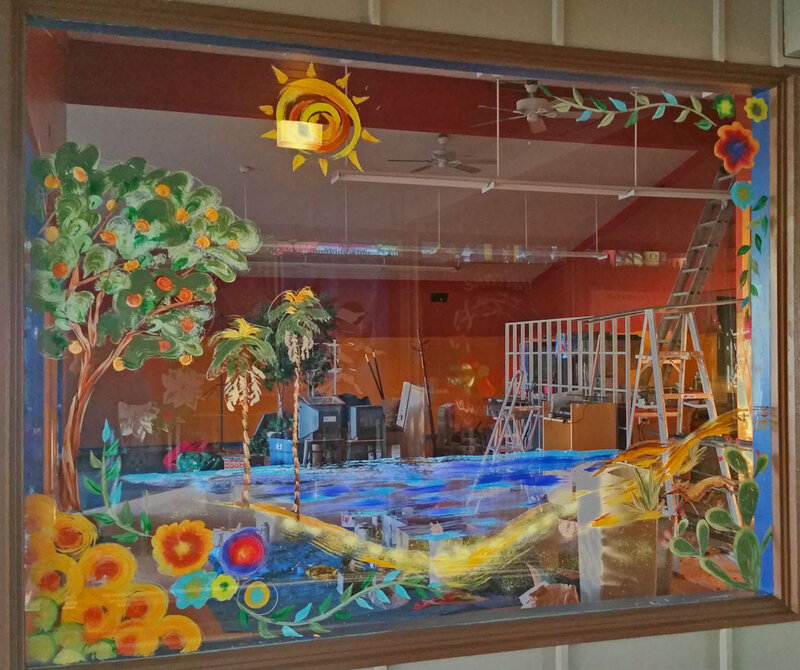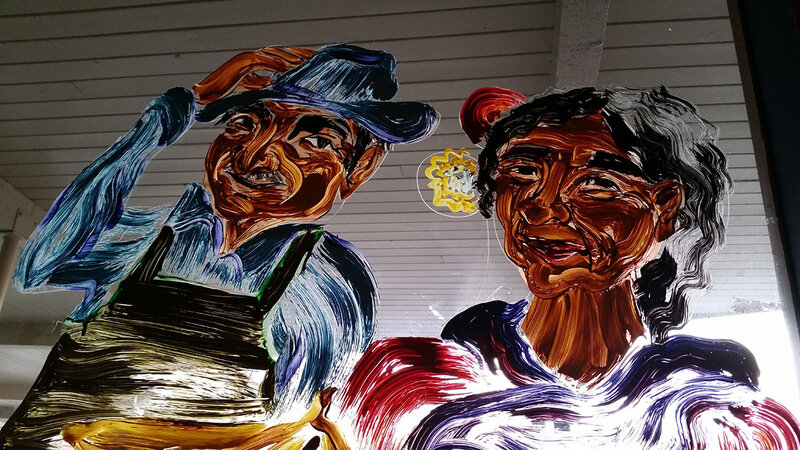 20 janvier 2019
A market delivery truck to bring tons of veggies from the farm to the city, very early in the morning...
Keep an eye out for it on a highway near you!
Painted with artist Guillaume Varet.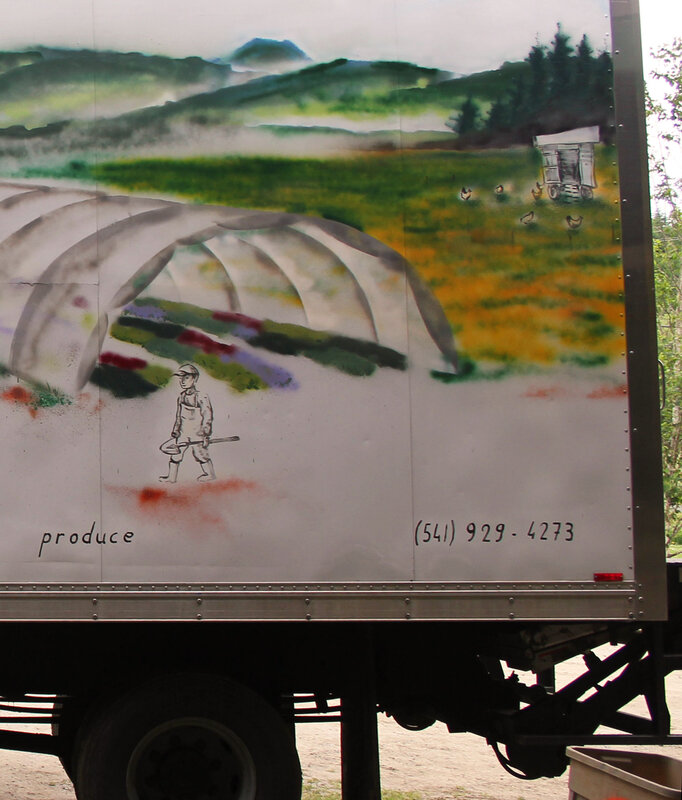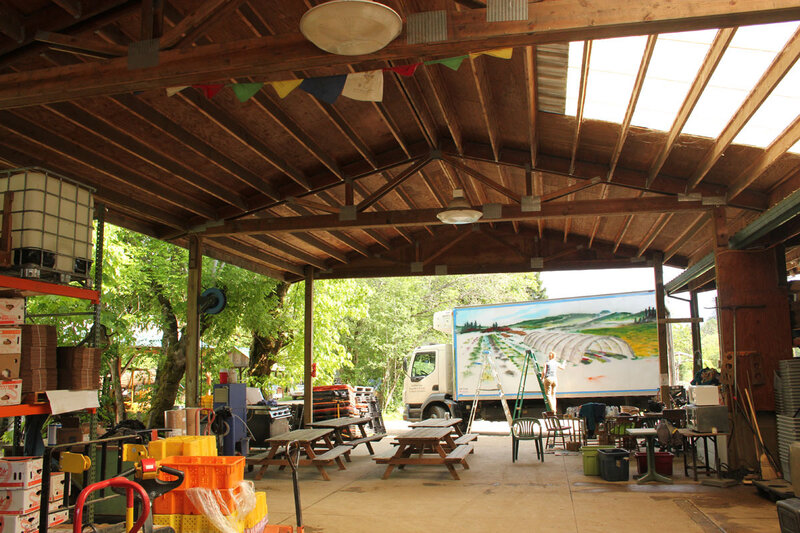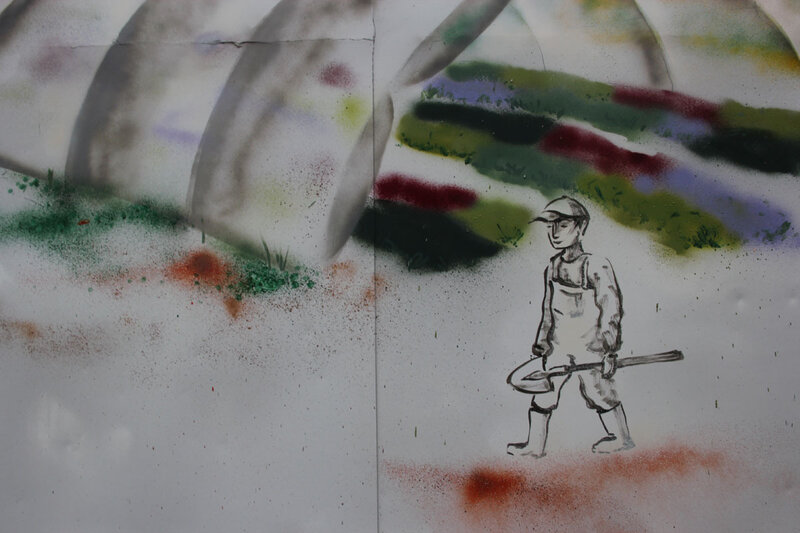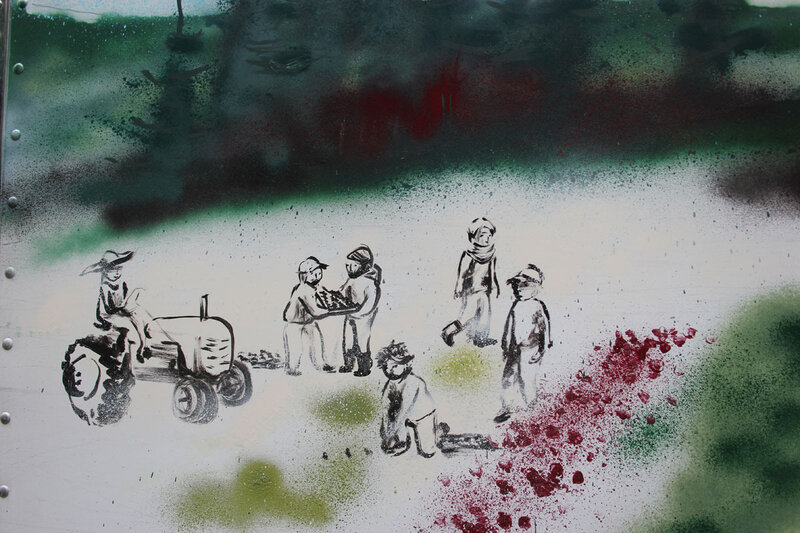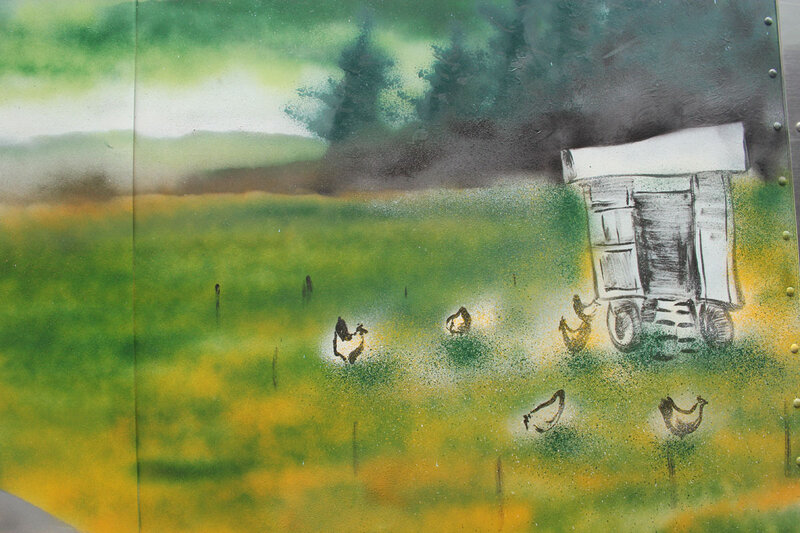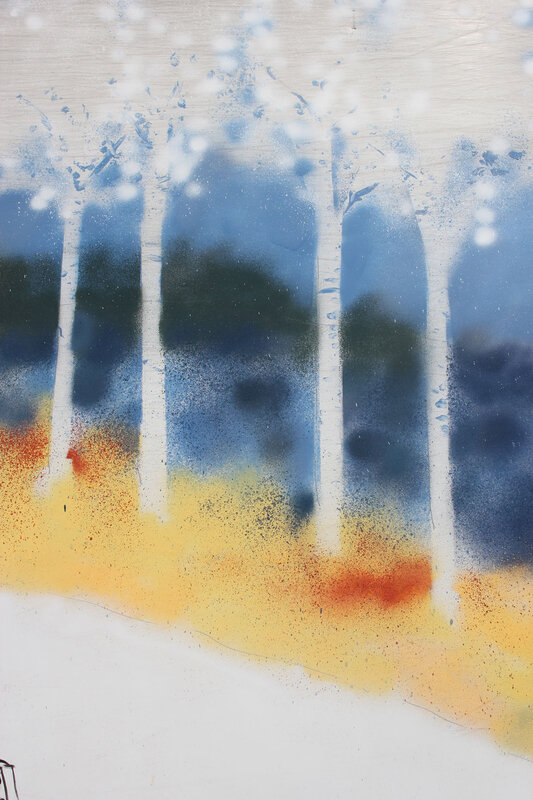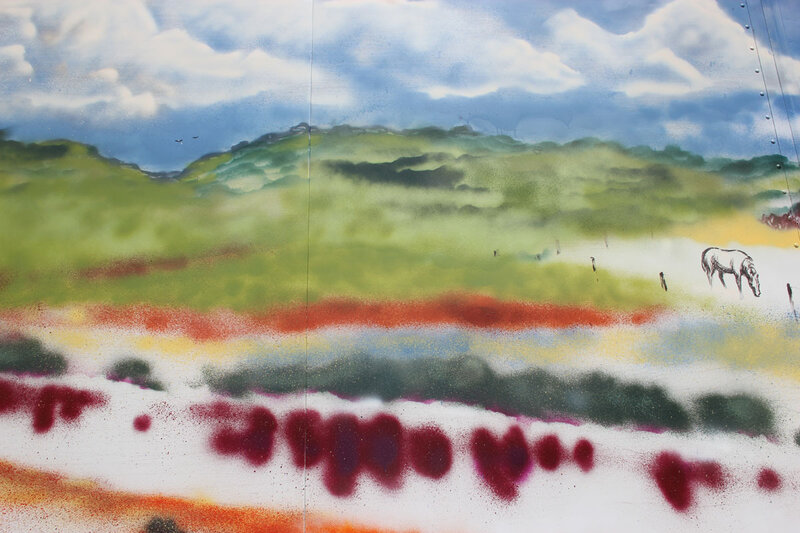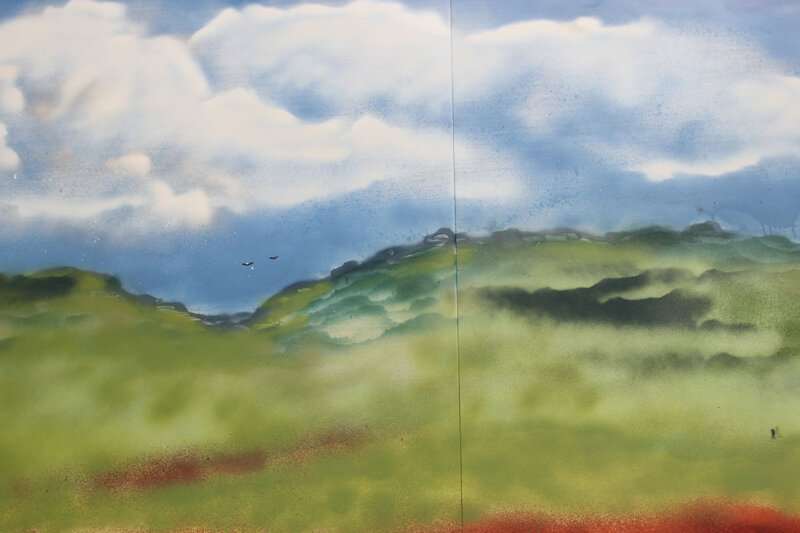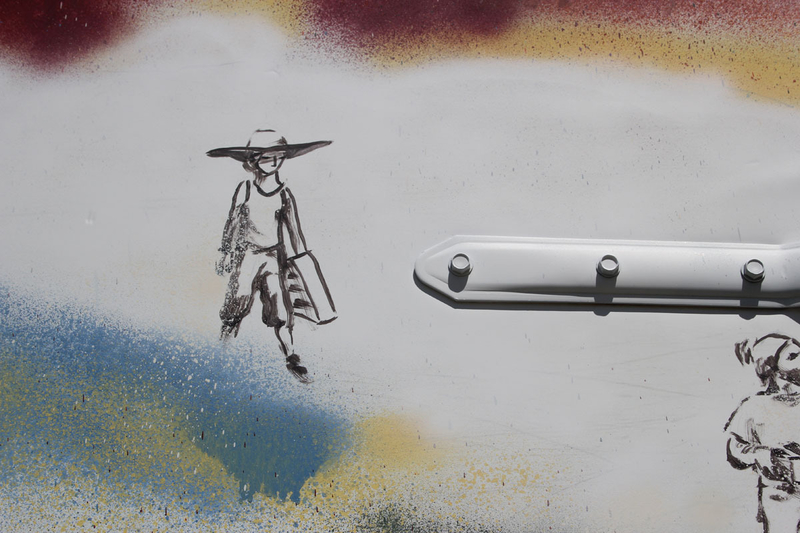 A cool little farm stand truck that unfolds on Wednesdays in the summer to display the racks of tomatoes and corn!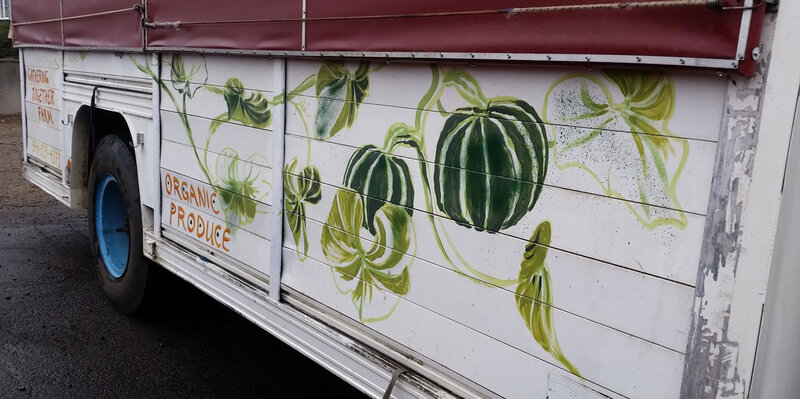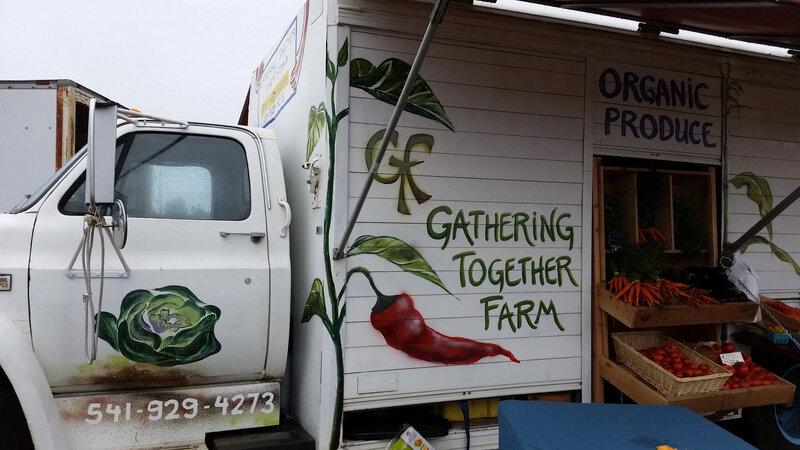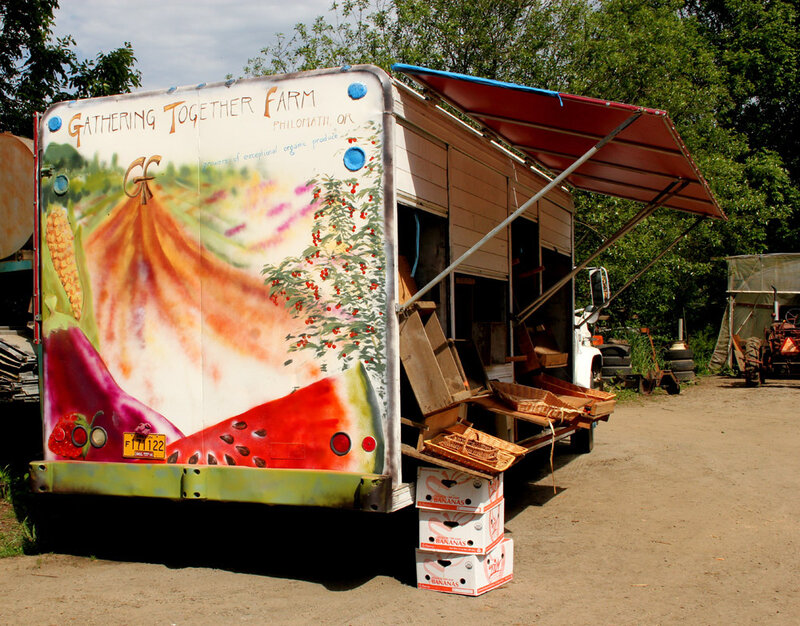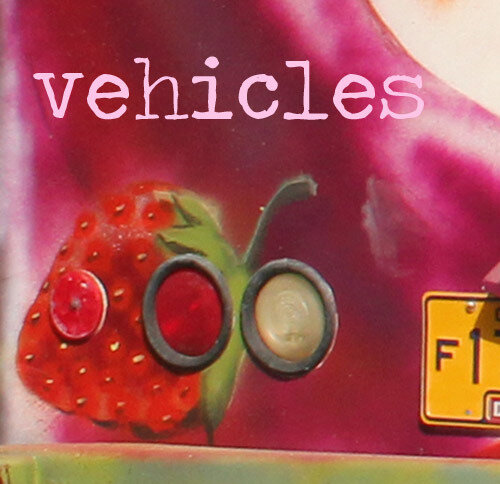 Click on the images to see more!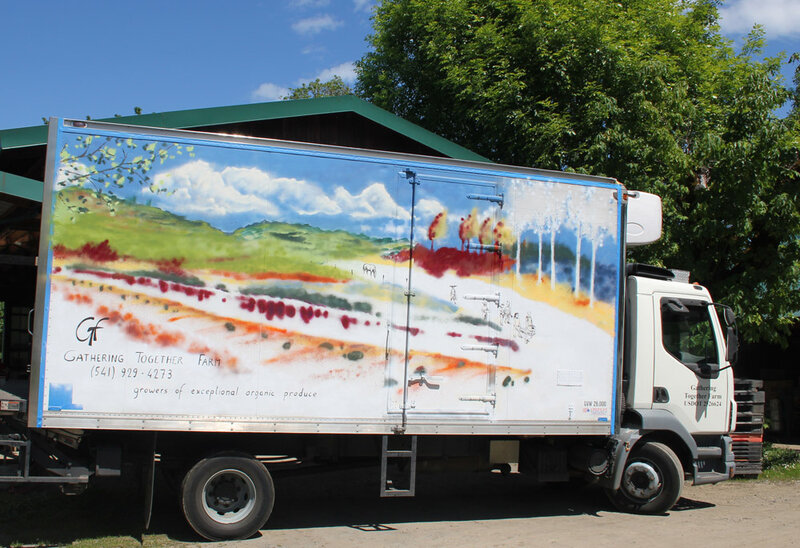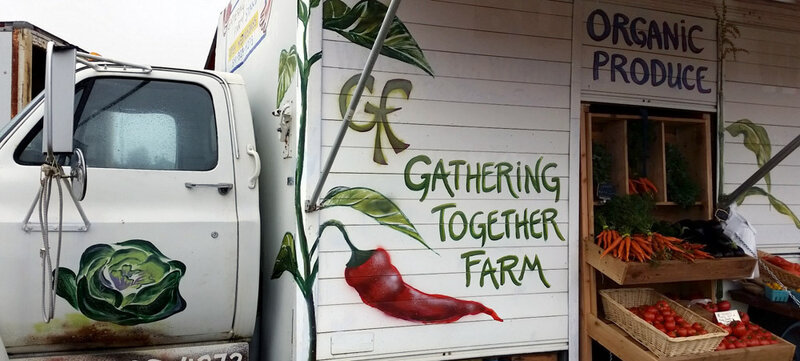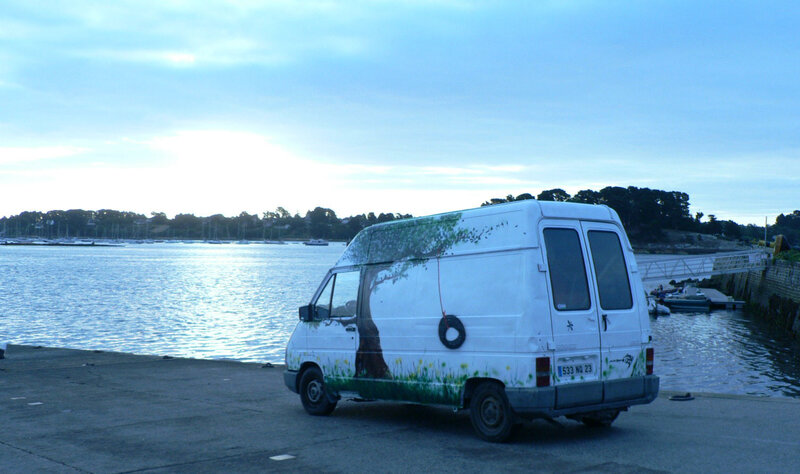 19 janvier 2019
Illustrations for the Internet: