04 janvier 2022
My entry to the Pushpin Show this year...
For January every year, the main gallery at the Newport Visual Arts Center fills with the art of anyone who would like to participate. Participants in the PushPin & ClothesLine Show must be able to hang their work "with four or fewer push pins or three or fewer clothes pins."
03 janvier 2022
The hospitals in Newport and Lincoln City, OR have a magnificent program of healing through art. Part of that program is the installation of paintings, drawings, photos and sculptures by local artists, mostly around a nature theme. A huge, successful leap from the scary sterile white environment you may imagine. The halls are beautiful! They are opening two new wings of the renovated hospital soon, and here are my art proposals. For me, "nature" means "nature conservation," or even "activism" !
"Looking Out, Looking Down"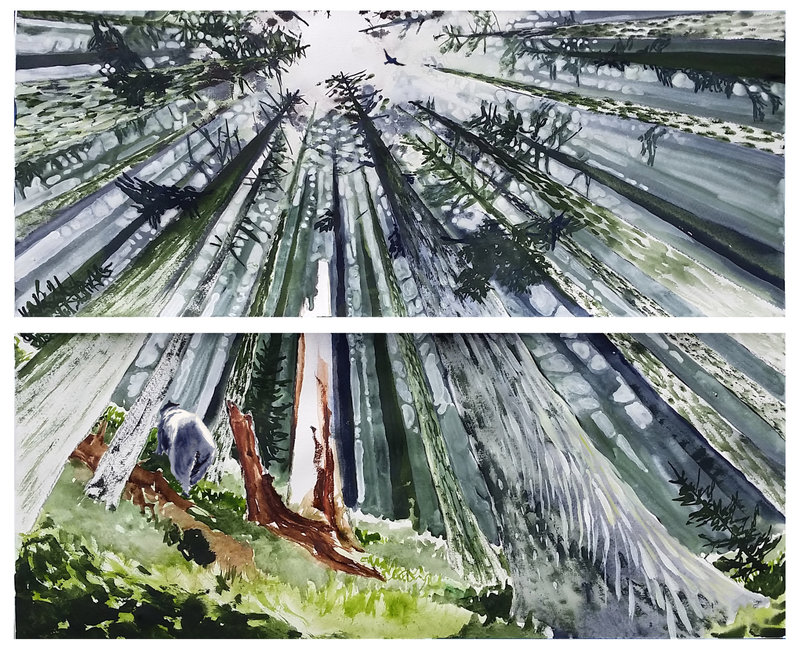 (This is the piece that was selected for display in the hospital!)
Modern research on forest ecosystems has allowed biologists to translate what we collectively knew from the beginning: individuals and groups of plants, animals, and fungi help and communicate with each other in space and across time in an infinitely intricate society some call sentient. "The forest is like many nations living side by side in peace." If after disturbing the peace, we look down in shame, may our gaze continue to land on mossy wonders. We cannot imagine the human nation separate from all the others; we are inside nature, looking up...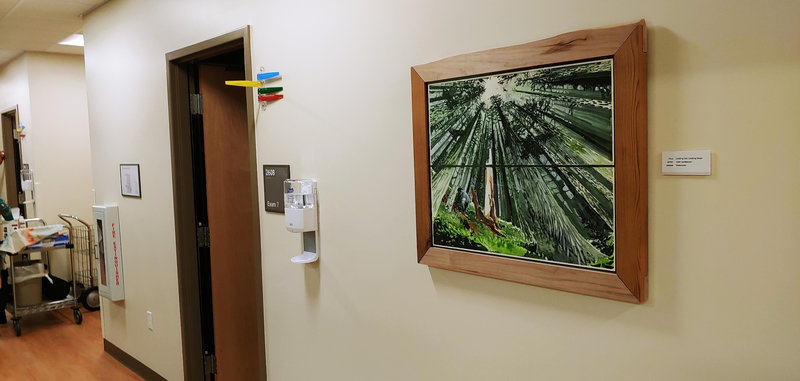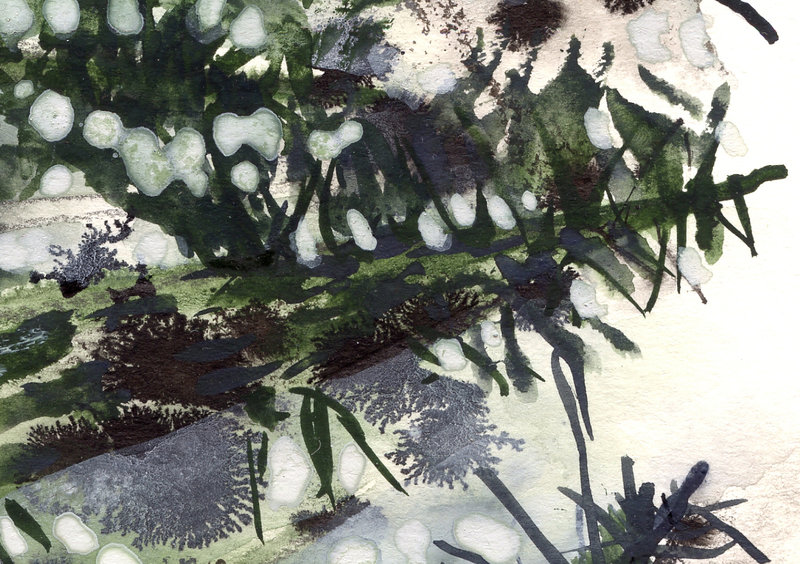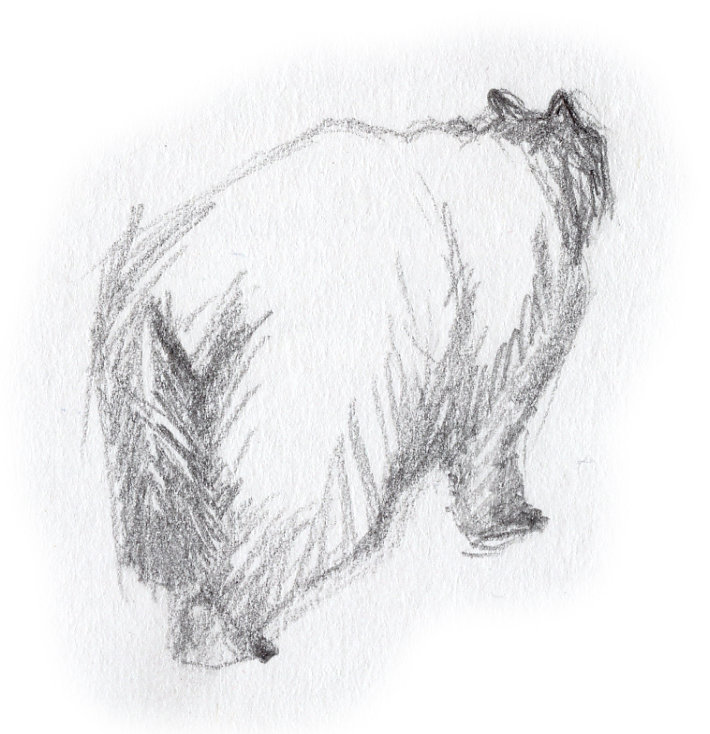 Here are my three other proposals. Maybe next time!!
"Kelp Forest with Neither Wolf nor Eel"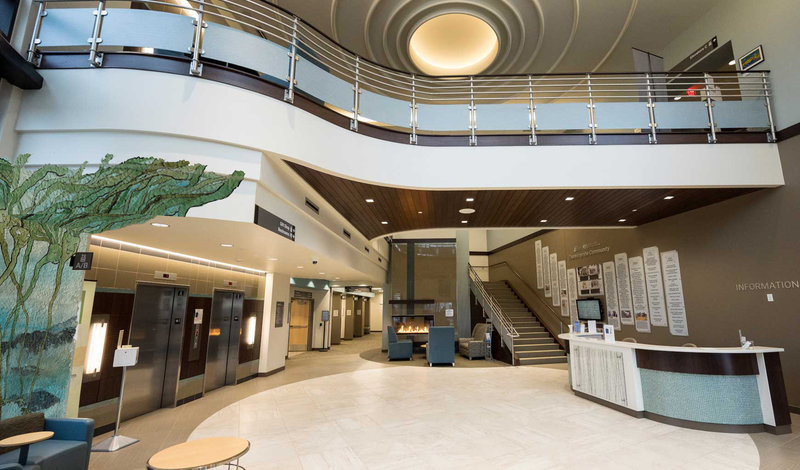 Occasionally donning a wetsuit to enter into the otherworld beyond the tidepool portal, I get carried away by a breathless sense of play and wonder. I am infinitely awed by the immense beauty and fragility so close underneath the surface.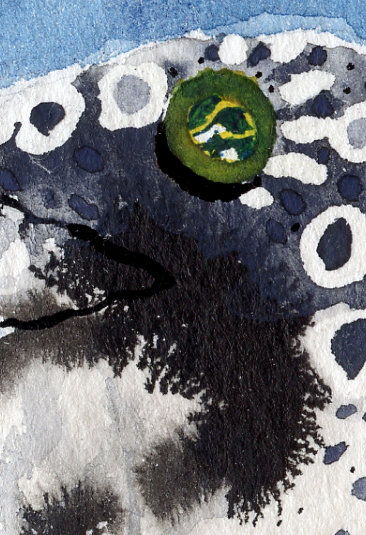 "Dame Lulu Gathering Yarrow"
As an adult I have learned of the medicinal (and culinary) personalities of the familiar plants around me, and gained a respect for their power to heal on many levels. This scene depicts an herbalist gathering yarrow (while being observed.)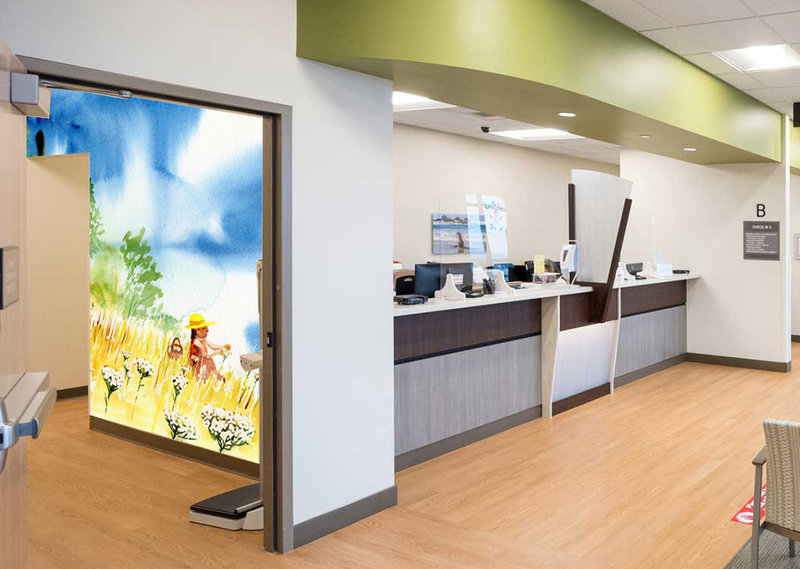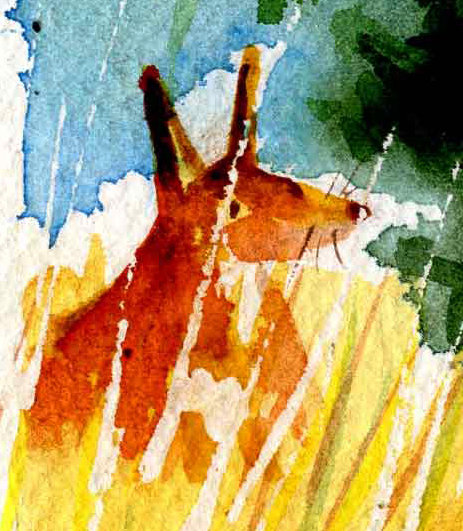 "Marbled Murrelet: Water Salute"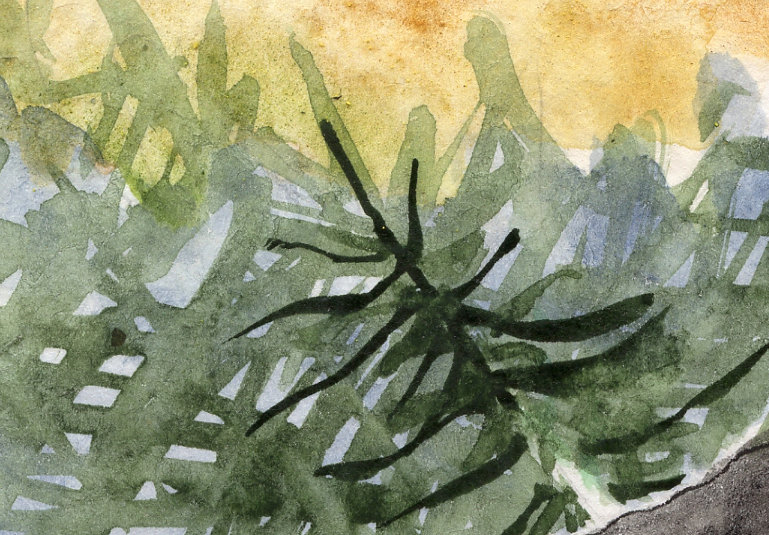 "Marbled Murrelet, you are brown, chubby, and discreet. Also perseverant, scrupulous, and bold. With zero practice, one day you decided you were ready, leapt from your nest and flew out to the Pacific Ocean. Thank you, little hero, for saving the big trees before you go. Bon vent..."
15 juin 2020
My contribution to Jeff's Historical Buildings of Lincoln County drawing challenge.
Ma participation au défi de Jeff de dessiner des bâtiments historiques de Lincoln County, Oregon, USA.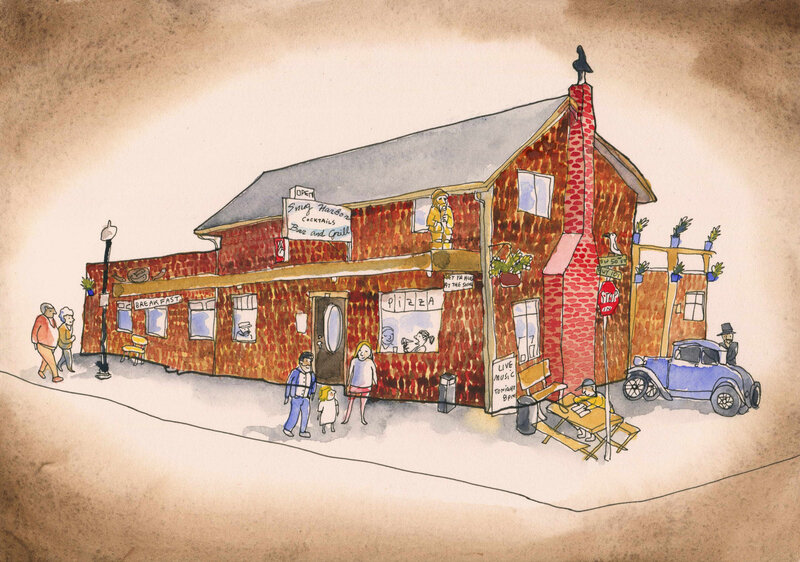 01 janvier 2020
A commissioned drawing for the Malheur National Wildlife Refuge's yearly newsletter.
Commande pour le Parc National de la Faune Sauvage de Malheur.

29 octobre 2019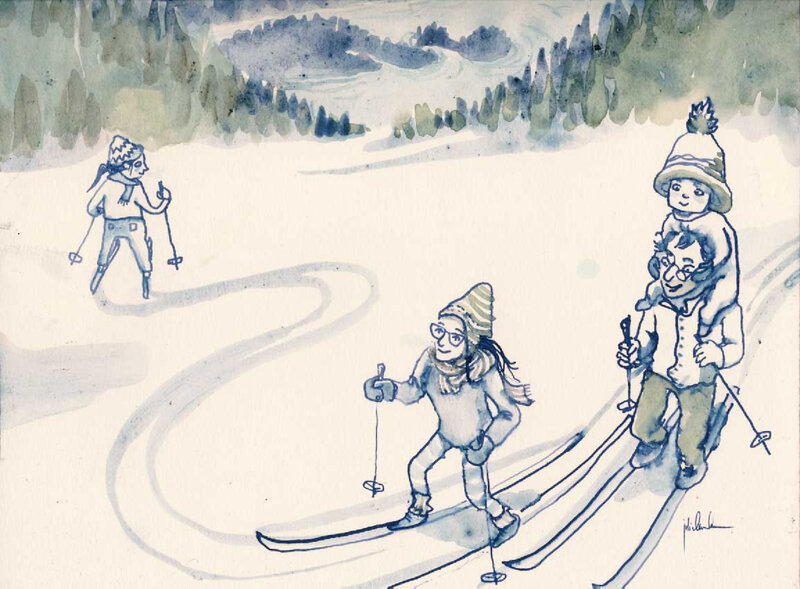 29 mai 2019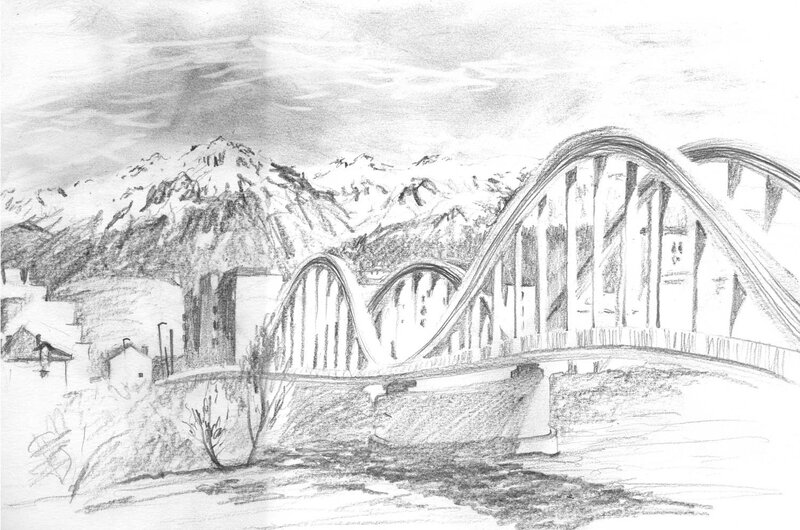 We are in Fontaine this year, with the fair city of Grenoble just over this bridge.
This drawing was done during a writing/drawing workshop proposed by the library. It was a challenge!
Cette année nous nous trouvons à Fontaine: Grenoble est de l'autre côté du pont.
Ce dessin a été fait dans le cadre d'un atelier proposé par la médiathèque. Il ma sorti de mes habitudes !
01 décembre 2014
A pile of old drawings I put into frames so they would be available for the Christmas season.

Un tas d'anciens dessins que j'ai encadré pour les rendre

disponible avant Noël.
14 mai 2014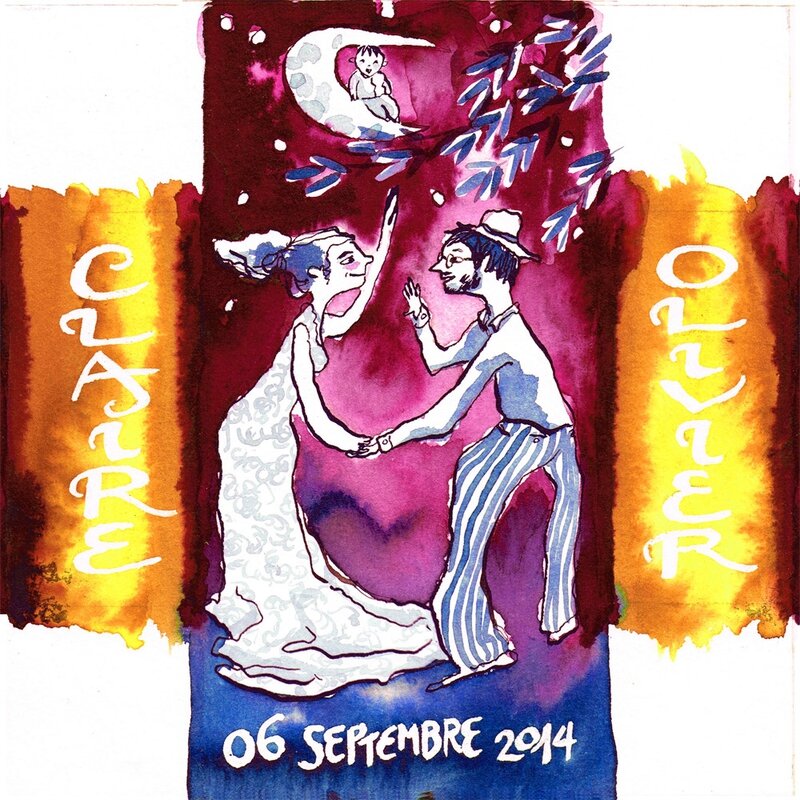 This is the finished version of Claire and Olivier's wedding invitation. It's a special folding technique called a Perpetual Folding Card.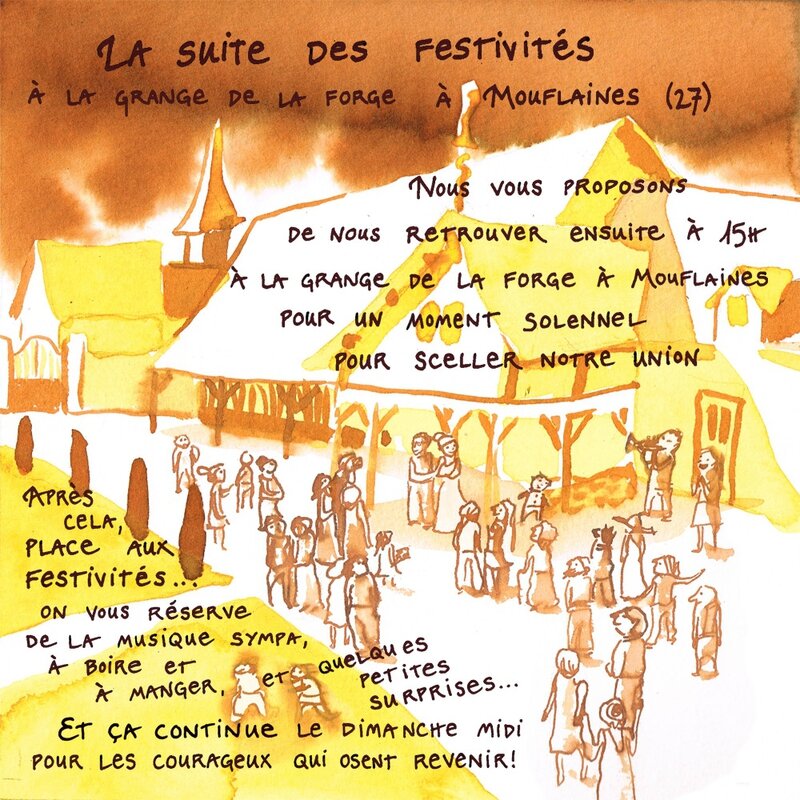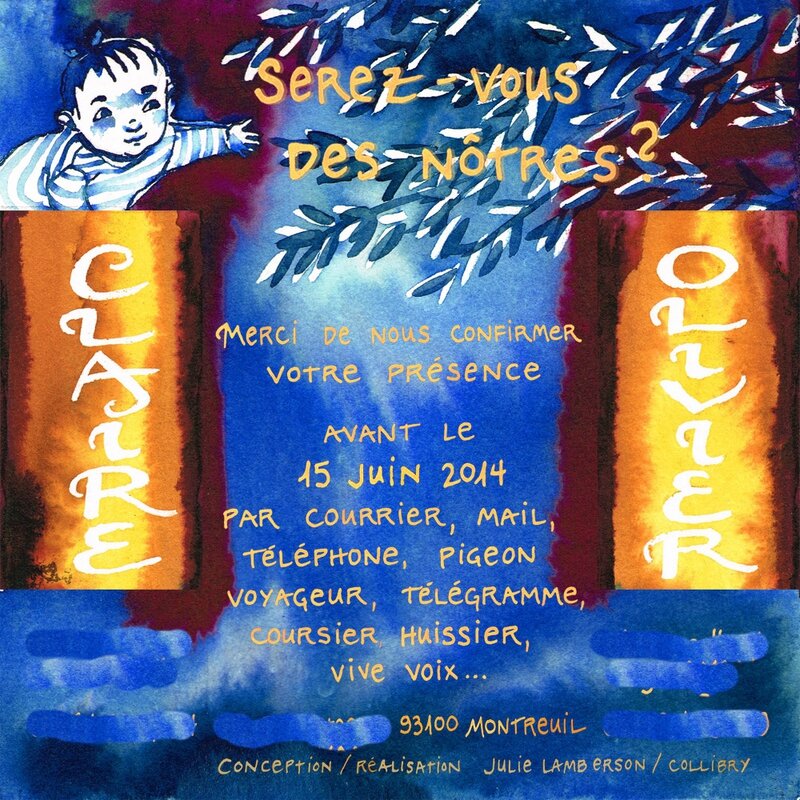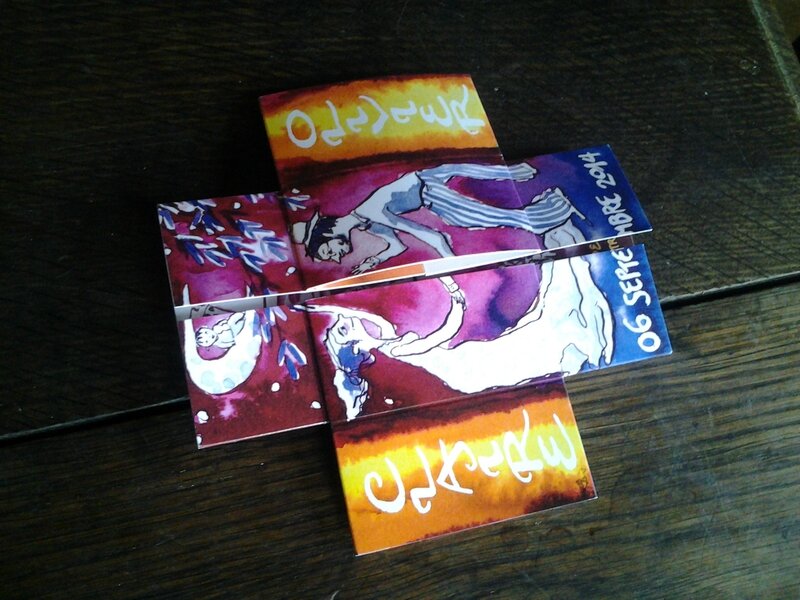 A few sketches of Claire, Olivier and Lucas for their wedding invitation.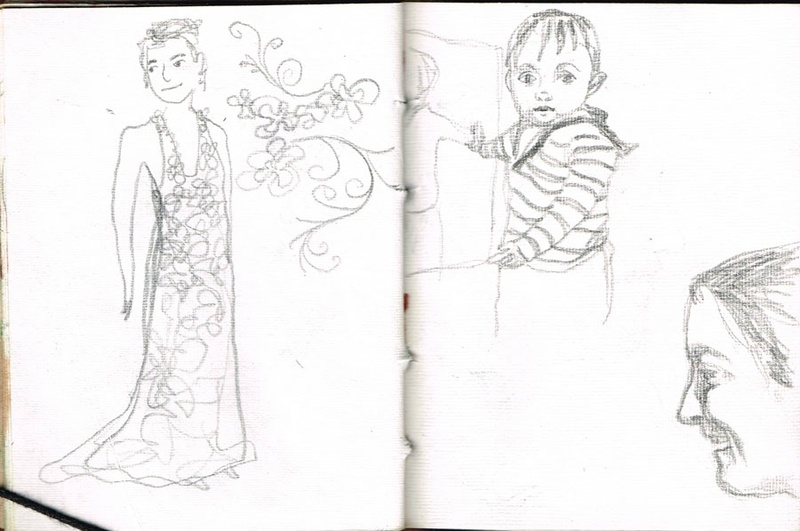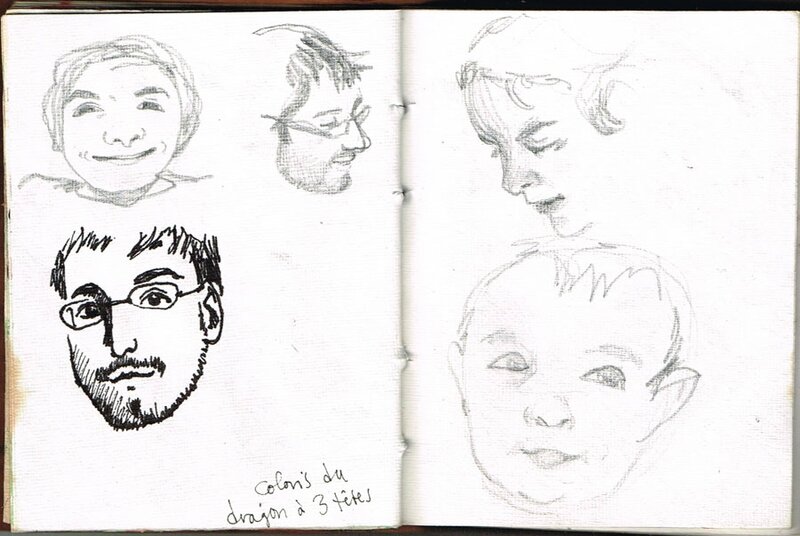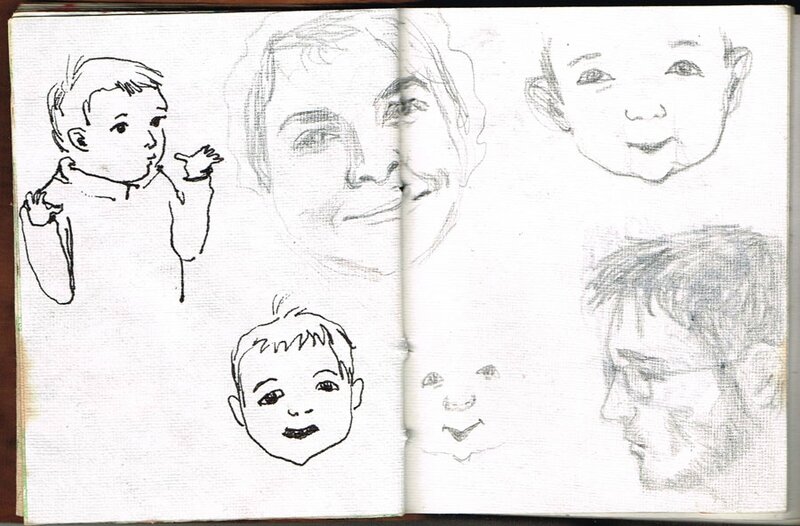 06 octobre 2013